Internships
Winter-Spring Communications Intern at ICFJ ($17 per hour)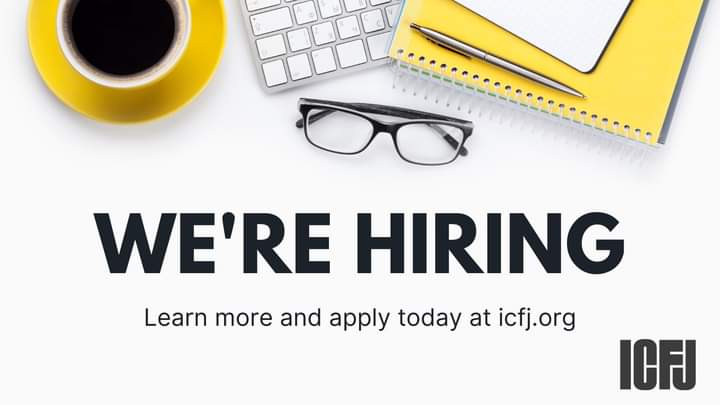 Winter-Spring Communications Intern at ICFJ ($17 per hour)
Apply today to become a Winter-Spring Communications Intern at International Center for Journalists (ICFJ). ICFJ is looking for a committed and talented intern to join their communications team and work with them to tell ICFJ's story. This is an exciting and paid opportunity for a self-starter who wants to advance journalism globally and further develop their communications skills – particularly in digital media.
Interns should be enthusiastic, efficient and flexible. Good writing skills and experience with social media are required. An interest in journalism and/or international affairs is strongly suggested. Applicants should exhibit a spirit of teamwork.
The internship requires a time commitment of 21 to 35 hours a week starting on January 16, 2024 and lasting at least four months, but no more than six. Applicants must be based in Washington, D.C. for the duration of the internship.
Responsibilities:
Write and publish material for social media (Facebook, Twitter and Instagram)
Own social media analytics Design visuals for social media
Film and edit video interviews
Help compile regular analytics reports using multiple tools, such as Facebook Insights and Google Analytics
Update ICFJ's website
Write short web stories and press mentions
Eligibility Requirements
Intern must be enrolled in a degree-granting program during the internship or a recent graduate. Marketing, communications, journalism and design majors preferred.
Experience with video editing and video editing software
Highly collaborative with strong communication and interpersonal skills
Ability to take initiative and be a self-starter
Strong attention to detail and organizational skills
Ability to manage multiple tasks
Take pride in your work
It is a plus if you have experience with:
Major design applications, such as Adobe Creative Suite
Photography
How to apply:
Applications will be reviewed on a rolling basis. Candidates should complete an application and upload a cover letter, resume, a social media graphic, and a writing sample.
For more details, visit Winter-Spring Communications Intern at International Center for Journalists (ICFJ)
See more opportunities