Grants
Apply Now for NYFF Young Leaders Development Funds 2023/24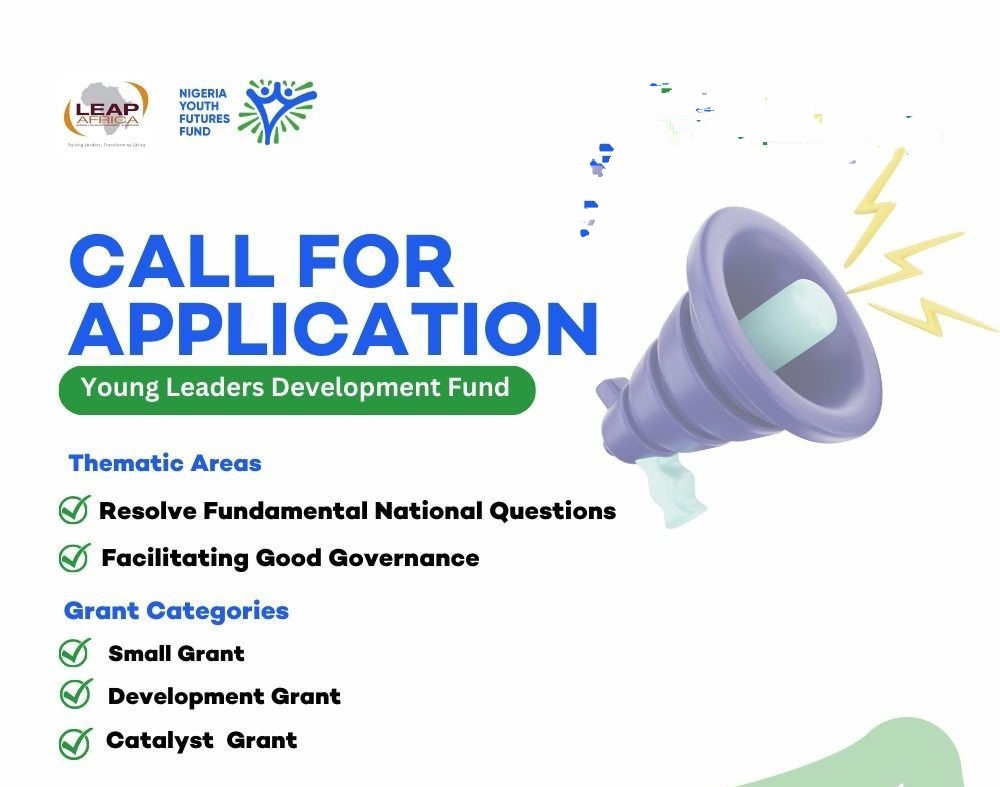 Apply Now for NYFF Young Leaders Development Funds 2023/24
Applications are ongoing for the NYFF Young Leaders Development Funds. The Nigeria Youth Futures Fund (NYFF) seeks grant applications from qualified individuals and organizations for the 2023/24 youth leaders' development funds. The grant aims to strengthen, support, and promote youth ecosystem building in the country. The grants will be awarded to individuals and organizations working in line with the thematic areas of interest.
About
The Youth Leadership Development fund will prioritize the themes described below, the themes are in line with the Youth agenda that emerged from the visioning exercise of the NYFF. Click here,

the Nigeria We Want Report, to read about the report. It is imperative for the applicants to submit concepts/proposals, in line with the themes, that are capable of driving social change within their community.
Facilitate Good Governance: Applicants are expected to submit Youth development project proposals that seek to support the National short-term and long-term development plans that promote;

Active Citizenship and Leadership Development
Policy Development, Advocacy, Executive and Legislative Reforms at various tiers of Government (National, State, and Local Government).
Institutional Strengthening, Transparency, and Accountability.

Resolve Fundamental National Questions: Applicants are expected to submit Youth development project proposals that seek to support the National short-term and long-term development plans towards the following

Peace Building
Equity, Social Inclusion, Cohesion, and Justice
Promotion of National Values including Patriotism, Unity, and Empathy within the country.
Proposals that leverage Media, Art, Entertainment, Creativity, and Technology to drive any of these pillars are also encouraged. Organizations can also apply as a cluster
Benefits
$1,000 grant for 60 individuals
$10,000 grants for 64 organisations
$50,000 grant for 6 youth hubs
Eligibility Requirements
Individual-level
The applicant must be a Young activist (aged 15- 35 years) with a proven track record, working on a Youth development project capable of social change across any of the thematic areas.
The applicant must demonstrate a good understanding and experience in strategic planning, project management, and implementation.
The applicant must demonstrate experience and knowledge of community or team building following principles of honesty and integrity.
The applicant must have genuine means of identification or attached to an institution.
The applicant must provide 2 reputable referees.
Organisation Level
Applicant must be registered with the Corporate Affairs Commission (CAC) of Nigeria or any authorized state/local level commission. The evidence of registration must be provided. Otherwise, unregistered organizations can form a cluster and apply through a registered organization.
Applicant must have a physical address, a corporate account with good financial standing, and records
Applicant must be open to partnering with the other Youths and the NYFF community when implementing the project.
Applicant must have good antecedents and proper track records. Applicant must provide 2 reputable referees.
Catalyst grant applicants must be civic hubs into Youth-driven activities within the region where the organization is based.
Catalyst grant applicants must have partnership capacities in all the states of their geopolitical region.
Catalyst grant applicants must have the capacity to support other organizations in the areas of capacity building and institutional strengthening.
Visit Nigeria Youth Futures Fund to read more and apply for the grant.
Deadline Oct 7 2023 11:59 PM (WAT)
Read Also