Competitions
Africa Business Club @Kelly Pitch Competition for Food Startups ($5,000)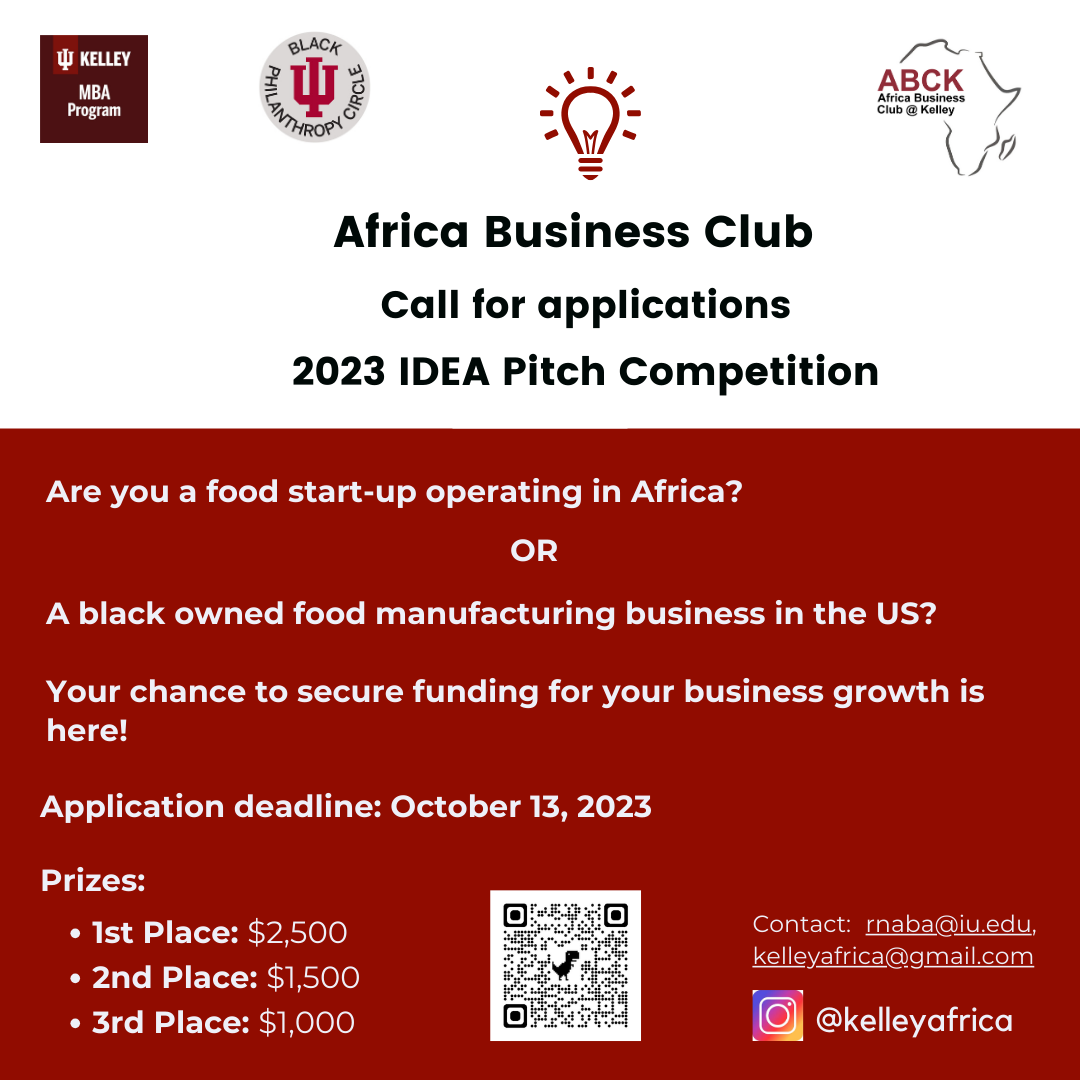 Africa Business Club @Kelly Pitch Competition for Food Startups ($5,000)
Applications are open for Africa Business Club @Kelly Pitch Competition. This is a call to all food startups operating in Africa and Black owned food manufacturing businesses in the United States. The competition is sponsored by: Africa Business Club, @Kelley School of Business Indiana University – Bloomington
Prize money
1st place: $2,500
2nd place: $1,500
3rd place: $1,000
Eligibility Requirements
Participants will present their business ideas in the form of a business pitch, and to be eligible to participate, participants must meet the following criteria.
The business pitch must represent the original work of the team members. The author(s) shall retain all rights to the business pitch regarding its use prior to and following the competition. The business pitch must not contain any fabricated information about (but is not limited to) the background, experience, or education of the management team, the stage of product development, product performance claims, or market survey results.
The competition is open to African entrepreneurs based in Africa and black owned entrepreneurs based in the United States. This must apply to at least one member of the management team, but other people may be members of the management team and participate in planning the venture. A participant may submit only one business pitch to the competition.
The competition is for African entrepreneurs who created, managed, and owned ventures in Africa or black owned entrepreneurs in the United States. In other words, African entrepreneurs must have played a key role in creating the venture, have key management roles and own significant equity.
The competition is for new idea and business development, with the goal of helping businesses registered for at least 6months to access additional funding. Companies must be less than 5 years at the time of submitting their application.
The competition is an initiative for new and upcoming African entrepreneurs on the African continent. Teams should respect the rights of their opponents. The Africa Business Club. @Kelley (ABC @Kelley) reserves the right to disqualify teams who act unprofessionally.
Guidelines
The business pitch is limited to 7 pages maximum (12-point font) of text, excluding the cover page, title page, and exhibits.
The business pitch must follow the ABC @Kelley 2023 Business Pitch Format.
All eligibility criteria can be reviewed by ABC @Kelley on a case-by-case basis for exceptions.
Business Pitch Format:
After reading the business pitch, the reader should be able to understand the business idea. The business pitch will be evaluated based on three main factors:
Uniqueness of business idea
Clarity of the business idea
Viability of the business.
Find out some Business Grant Application Tips that can help you in your appreciation.
Deadline: Oct 13, 2023, by 11:59 pm EST
For further details, visit Africa Business Club @Kelly Pitch Competition
Read Also