Fellowships
Microsoft Research AI & Society Fellows Program 2024-2025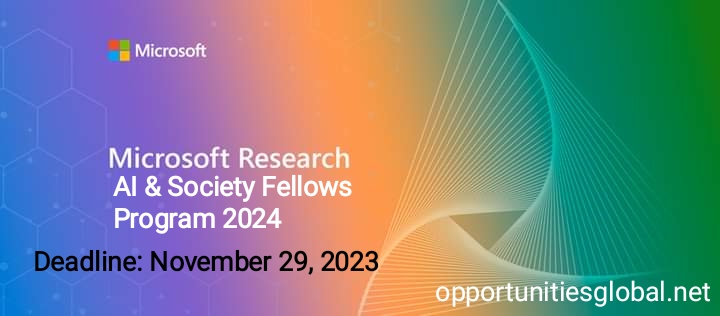 Microsoft Research AI & Society Fellows Program 2024-2025
Apply today for the Microsoft Research AI & Society Fellows Program. The Microsoft Research AI & Society fellows program aims to catalyze research collaboration between Microsoft Research and eminent scholars and experts across a range of disciplines core to discussions at the intersection of AI and its impact on society. Microsoft recognizes the value of bridging academic, industry, policy, and regulatory worlds and seeks to ignite interdisciplinary collaboration that drives real-world impact
Through a global, open call for proposals targeting a specific set of research challenges, Microsoft will facilitate strategic collaborations, catalyze new research ideas, and contribute publicly available works to benefit scholarly discourse and benefit society more broadly.
class="wp-block-heading">About

The Microsoft Research AI & Society Fellows program supports interdisciplinary AI research in the context of societal impact.

The program offers opportunities for fellows from fields beyond core computer sciences to join and support interdisciplinary research conversations with Microsoft Researchers. By facilitating these new collaborations, Microsoft aims to scale the impact of collective research efforts at the intersection of AI & Society.

An individual can submit to multiple research challenges (a maximum of three) provided they are eligible. A candidate will only be selected to join one research challenge as a "fellow". The various challenges include
AI in Organizational Settings
AI in the Production of Culture, Media, and the Arts
AI Powered Community Micro-Grid for Resiliency and Equitability
Copyright Protection for User Data in the Era of LLMs
Generative AI and Plural Governance: Mitigating Challenges and Surfacing OpportunAq|ities
Multimodal Knowledge Understanding and Representation for Population-scale Copilots
Reducing the Digital Divide of Generative AI in the Global South
Regulating AI in Light of the Challenges of Doing Responsible AI in Practice
Regulatory Innovation to Enable Use of Generative AI in Drug Development
Sociotechnical Approaches to Measuring Harms Caused by AI Systems
Storytelling and Futurism
Supporting the Responsible AI Red-Teaming Human Infrastructure
Towards Creative-Centered AI: Opportunities and Challenges at the Intersection of Creatives, AI, and Society
Eligibility Requirements
Microsoft is seeking eminent scholars and leading experts from a wide range of fields and disciplines to join a variety of interdisciplinary collaborations focused on key research challenges.
The submission criteria and eligibility guidelines vary by research challenge for this program. Please review the research challenge descriptions and eligibility details on the website.
Benefits
Candidates who are selected will be named Fellows, and will receive a monetary award in the form of an unrestricted gift. The funds are given directly to the fellow's institution to be distributed to serve as a stipend as appropriate.
In addition, the Fellow will be connected with the Microsoft Research team who is dedicated to collaborating on the specific research challenge. The unrestricted gift does not interfere with future eligibility for internships or employment opportunities at Microsoft, nor does it increase the chances of obtaining them.
Deadline: November 29, 2023
For more details, visit the Microsoft Research AI & Society Fellows program page
See more opportunities