Fellowships
Apply for Echoing Green Fellowship 2024 (funded)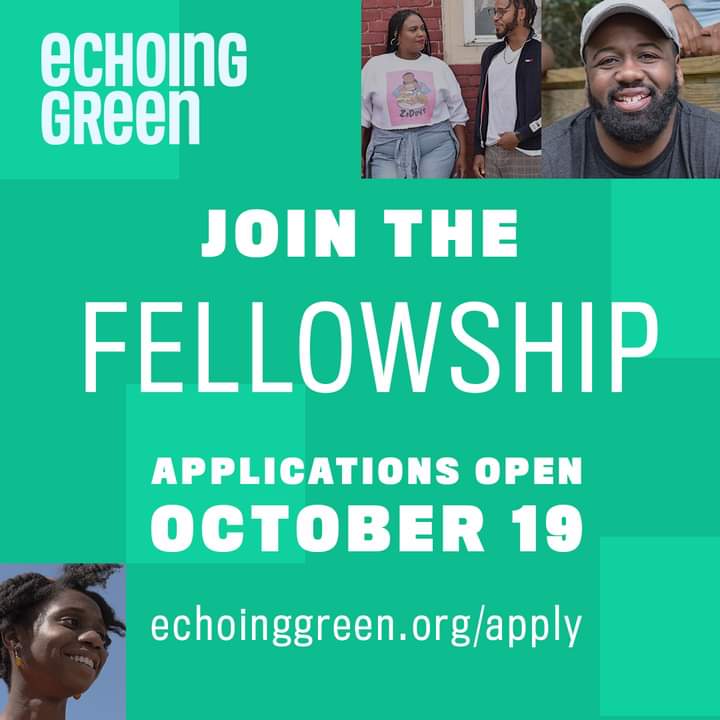 Apply for Echoing Green Fellowship 2024 (funded)
Applications are open for the Echoing Green Fellowship 2024. Echoing Green supports bold leaders from all over the world who see possibility in the face of the most existential challenges of our day.
This Fellowship is for people whose enterprises are at an early stage and who are experts on the challenge they've chosen to confront. We seek leaders who reflect the community they serve and bring deep knowledge of the issues into their work as they co-design solutions with and for their communities.
Eligibility Requirements
Applicant Eligibility
Echoing Green Fellowship applicants must be 18 years or older by June 1, 2024.
To be eligible for the Fellowship and fully participate in programming and support offerings, you must be able to communicate in English proficiently. Support throughout the Echoing Green Fellowship is offered in English.
To be eligible, you must be a leader with decision-making power within the organization and be either 1) a sole founder or 2) a leading founder on a team of people who created the organization.
To be eligible for an Echoing Green Fellowship, applicants must be the primary decision maker and have the ultimate authority over your organization's growth and strategic vision.
If selected for an Echoing Green Fellowship, you may hold other professional responsibilities, but you must work full time, defined here as 40 hours a week, on the work outlined in your Fellowship application, and it must remain as your main professional priority.
Organization Eligibility
Organizations that are independent but have fiscal sponsors are eligible for the Echoing Green Fellowship as long as the fiscal sponsor has no authority over the organization's work and decision making.
To be eligible for an Echoing Green Fellowship, you must be able to make and act on organizational decisions of your own choosing.
Echoing Green seeks applicants in need of funding to initiate or scale their organizations. Those that 1) have operated with full-time staff for less than five years or 2) still need resources to grow and sustain their operations
Per the U.S. Internal Revenue Service, Echoing Green cannot distribute funds to organizations whose primary purpose is lobbying. Lobbying is defined as activities that seek to support specific political candidates, specific political parties, or urge action on specific legislative bills
To be eligible for an Echoing Green Fellowship, the organization cannot engage in recruitment, promotion, or conversion for a specific religious faith to your constituency. If your organization's work has a spiritual element or works with existing faith communities but does not promote or recruit on behalf of that faith, you may be eligible.
For you and your organization to be eligible for an Echoing Green Fellowship, no founding team members and no people in a leadership position can be an Echoing Green Fellow
Deadline: Applications due by November 2, 2023
Applicants who are selected for the Fellowship will be notified in June/July 2024.
For more details, visit Echoing Green Fellowship
See more opportunities