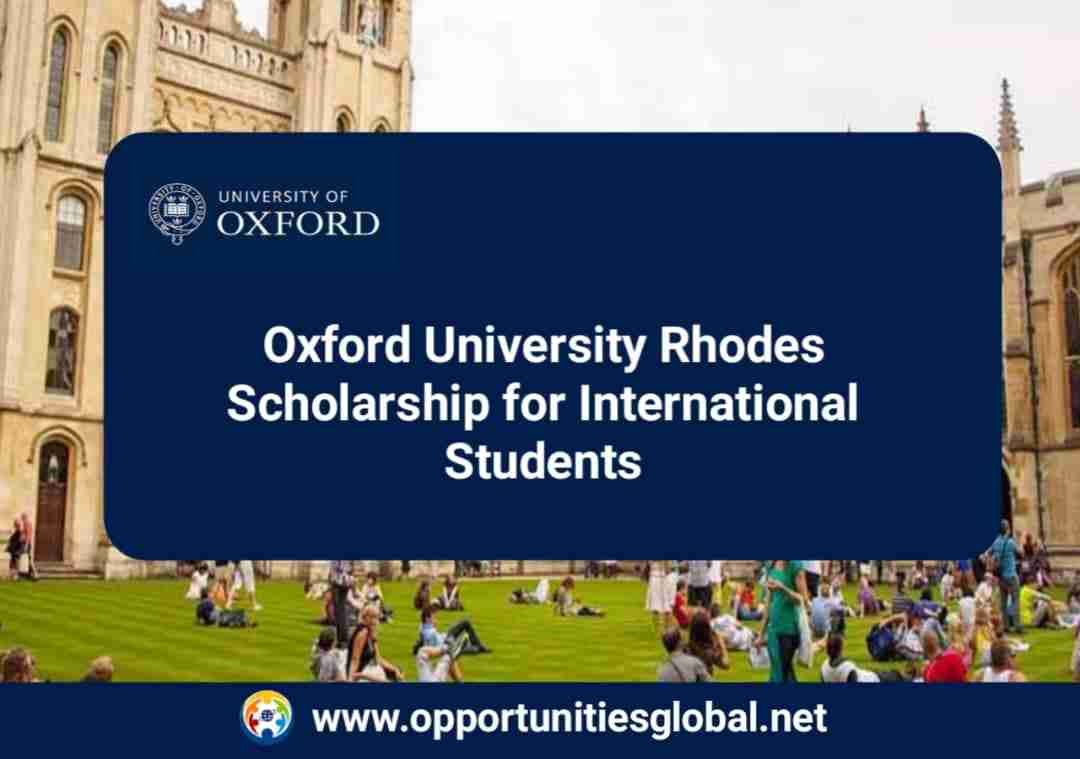 The Oxford University Rhodes Scholarship program is presently accepting applications for the academic year 2023-2024.
The Rhodes Scholarship is a fully funded, full-time postgraduate prize that allows bright young people from all around the world to study at the University of Oxford.
Rhodes Scholarships provide brilliant postgraduate students from all over the world and also all fields of study with the opportunity to study at Oxford University. You can also study any subject that Oxford has to offer.
As a scholar, you will be a part of a strong and supportive worldwide community for the rest of your life.
The application procedure is rather simple. You simply inform them about yourself, and they conduct a series of interviews in your area.
The RHODES scholarships help you make the most of your time at Oxford University, academically, socially, personally, and financially.
ABOUT RHODES SCHOLARSHIPS
DEADLINE FOR RHODES SCHOLARSHIPS: 03 October 2022
LEVELS: PhD, Masters
FINANCING: Fully funded (travel, lodging, stipend…).
ELIGIBLE COUNTRIES: All Nationalities
HOST UNIVERSITY: Oxford University in the UK.
Target group:
Australia, Bermuda, Canada, China, Commonwealth Caribbean (Anguilla, Antigua, the Bahamas, Barbados, Belize, the British Virgin Islands, the Cayman Islands, Dominica, Grenada, Guyana, Montserrat, St Lucia, St. Kitts and Nevis, St. Vincent, Trindad and Tobago, and, the Turks and Caicos Islands), East Africa (Uganda, Tanzania, Rwanda, South Sudan and Burundi), Germany, Hong Kong SAR, India, Israel, Jamaica, Kenya, Malaysia, New Zealand, Pakistan, Saudi Arabia, Singapore, Southern Africa (South Africa, Botswana, Lesotho, Malawi, Namibia and eSwatini), Syria, Jordan, Lebanon, Palestine, United Arab Emirates, United States (50 states of the US, the District of Columbia, and the U.S. territories of American Samoa, Guam, Northern Mariana Islands, Puerto Rico and the U.S. Virgin Islands), West Africa (Benin, Burkina Faso, Cape Verde, Gambia, Ghana, Guinea, Guinea-Bissau, Ivory Coast, Liberia, Mali, Mauritania, Niger, Nigeria, the island of Saint Helena, Senegal, Sierra Leone, São Tomé and Principe and Togo), Zambia, and Zimbabwe.
Coverage for Rhodes Scholarships
The Rhodes Scholarship provides the following benefits to the recipient:
Firstly, a stipend of £15,144 per year; all university and college costs;
Secondly, one economy class flight to Oxford to begin the scholarship and one economy class travel back to the student's home country at the end of the fellowship.
Thirdly, the application fee to the university;
Furthermore, the Scholarship is valid for two years, subject to excellent academic performance and personal behavior. The Scholarship may be extended for a third year for individuals who take a recognized route to the DPhil, subject to an application process (PhD).
(Please Check The Transform Together Scholarship for International and European Union (non-UK) Students)
Eligibility for Rhodes Scholarship:
Rhodes Scholarship Eligibility Criteria
To be eligible for the Rhodes Scholarship, candidates must meet all of the following requirements:
Firstly, Citizenship and residency criteria: Each applicant must meet the Rhodes constituency's citizenship and residency requirements. Check out the list of countries that are qualified here.
Secondly, Education: By October, all applicants must have completed an honors bachelor's degree.
Furthermore, academic status must be sufficient to get admission to the University of Oxford, which has extremely stringent admissions standards. In Canada, a minimum GPA of 3.75/4.0, or similar, is anticipated.
Age limits also vary by constituency and range from a minimum of 18 to a maximum of 28 by October 1st of the year following selection. In most districts, The average age restriction in a constituency is 24 or 25. Before applying, please carefully review the minimum age requirements for your constituency. The October after the selection procedure, the chosen candidates will come at Oxford.
English is a required language.
Please click this link to view the eligibility requirements for each country.
Application guidelines for Rhodes Scholarship:
To apply for a Rhodes Scholarship, please follow these simple steps:
Required Documentations:
The following items, in various formats, will be needed by all constituencies in general:
Curriculum vitae/resumé or list of principal activities. (Please do not include a photograph in your CV for this scholarship)
Evidence of academic record / transcript (complete or in progress) of undergraduate degree and any postgraduate study
Personal statement or essay (including, crucially, a clear statement of what the applicant wishes to study at Oxford and why)
English Language proficiency (where English is not the first language). Check requirements here.
Evidence of age/birth certificate/passport
Photograph
Four reference letters from appraisers who can attest in confidential references to the character and intellect of the applicant, including academic, personal, extra-curricular and also leadership achievements (and who should never include people to whom you are related).
Step by Step Application Process:
(1) You can apply online at http://www.rhodeshouse.ox.ac.uk/scholarships/apply via the scholarships tab.
(2) You must submit your application online, with all supporting documents, by deadline.
(3) In preparation for making your application, you should read carefully the general information, particularly that held on the Scholarships tab, on the Rhodes website, the Conditions of Tenure for the Rhodes Scholarship, the information in this document and the graduate admissions pages of the University of Oxford: www.ox.ac.uk/admissions/graduate.
The Rhodes Scholarship's official website is at https://www.rhodeshouse.ox.ac.uk/scholarships/
(4) Shortlisted candidates will be invited to a social engagement and a final interview. You must be available to attend both, in person, as no accommodations can be made on date and time, or mode, of these events. International travel for those attending from overseas cannot be funded.
(5) All applicants will be emailed with the outcome of their application.
Selection Method for Rhodes scholarship:
The Rhodes Scholarship is awarded without taking into account a candidate's financial situation.
Without regard to marital status, race, ethnic origin, color, gender, religion, sexual orientation, social background, disability, caste, or any other unimportant distinction, candidates for the Rhodes Scholarship are chosen. The inclusion of this data in the "Outreach" section of the application form is voluntary, but it aids in our efforts to ensure the fairness of our selection procedures and the success of our outreach initiatives.
Only after a student is admitted to the University of Oxford successfully is the Rhodes Scholarship verified.
In addition, If a candidate who meets the required qualifications cannot be discovered, no choice will be made.
The Selection Committee's choice is final.
Procedure after selection
Please be aware that after being chosen, successful applicants must immediately submit an application to the University of Oxford. Full information will be provided after choosing.
Successful applicants will have access to Rhodes House, Oxford, where the references from the scholarship may be used again, if necessary, in support of the applicant's subsequent admission to the University of Oxford.
Successful applicants will be urged to reveal any medical conditions or special needs that could call for academic or personal support in Oxford, in confidence.

Website

To know more about Rhodes Scholarship, please visit official websites:
Scholarships related to this one: British Chevening Scholarship in UK for International Students
Follow us For faster updates:
See other opportunities