Scholarships
Fully-funded: Rotary Peace Fellowship Program for Leaders Worldwide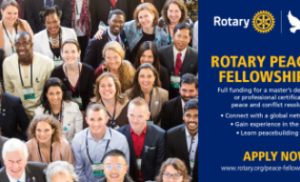 Applications are open for the Rotary Peace Fellowship Program 2023-2024. Each year, Rotary awards up to 130 fully-funded fellowships for dedicated leaders from around the world to study at one of their peace centers.
Through academic training, practice, and global networking opportunities, the Rotary Peace Centers program develops the capacity of peace and development professionals to become effective catalysts for peace.
Since the program began in 2002, the Rotary Peace Centers have trained more than 1,500 fellows who now work in over 115 countries. Many serve as leaders in governments, NGOs, education and research institutions, peacekeeping and law enforcement agencies, and international organizations like the United Nations and the World Bank.
ALSO READ: Apply to Oracle for Startups Program ($10,000 Cloud credits per Startup)
Programs
Master's degree programs: Accepted candidates study peace and development issues with research-informed teaching and a diverse student body. The programs last 15 to 24 months and include a two- to three-month field study, which participants design themselves.
Professional development certificate program: During the one-year blended learning program, experienced peace and development professionals with diverse backgrounds gain practical skills to promote peace within their communities and across the globe. Fellows complete field studies, and they also design and carry out a social change initiative. This program is intended for working professionals. Fellows earn a post-graduate diploma upon completion of the program.
Fellowship
The fellowships cover tuition and fees, room and board, round-trip transportation, and internship and field-study expenses.
ALSO READ: Oracle for Startups Program for African Technology Startups ($10,000 Cloud credits per Startups)
Eligibility
All applicants must:
Be proficient in English
Have a bachelor's degree
Have a strong commitment to cross-cultural understanding and peace as shown through professional and academic achievements and personal or community service
Master's degree candidates must also:

Show potential for leadership
Have at least three years of full-time experience in peace or development work

Certificate candidates must also:

Demonstrate leadership skills
Be able to explain how their plan to promote peace aligns with Rotary's mission
Candidates for Makerere University: Either be from Africa, have worked in Africa, or work with African communities or initiatives outside the continent.
Candidates have until 15 May to submit applications to The Rotary Foundation. Rotary endorsers must submit endorsements to The Rotary Foundation by 1 July. Find endorsement instructions.
For more information, visit the official webpage of Rotary Peace Fellowship
Recommendations