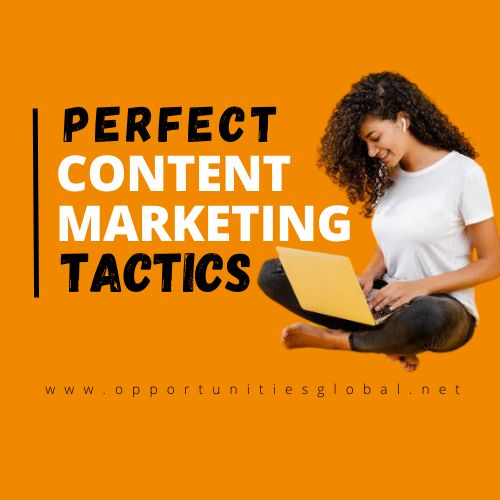 PERFECT CONTENT MARKETING TACTICS
Do you know that perfect content marketing is a great tool to making your audience know, like and trust you enough to buy your products/services? Are you struggling with creating contents for your online presence?
In this article, I will explain how you can develop a perfect content marketing plan that will help you crush your online business goals.
WHAT IS CONTENT MARKETING?
This is a marketing strategy that involves educating, entertaining, creating and sharing articles, videos, podcasts and other media in order to attract, engage and bond with your audience.
If you strive to have a loyal audience that madly identifies with your brand, then, content marketing is a must-do strategy.
class="wp-block-heading">WHERE DO I GET CONTENT MARKETING IDEAS?

You can get content  ideas from anywhere, anytime! You don't have to wait for an "aha" moment. Some of these include:
From other people's post
You can get a content  idea from someone's content; modify—add sugar and salt condiments—and craft it to suit your taste and business goal.
From Google search
You can search on Google and look up trending information you can "steal," edit and post. Ensure the information relates to the business you do.
Audience-generated content
You can get content  ideas from the questions or problems your audience might have that your business can proffer solution to.
Educational content
You can create educational content like stories, quotes or important updates that relates to your brand.
Motivational or humorous content
You can creatively come up with humorous contents and tailor it down to your business. This kind of content emotionally engage your audience.
Wait! Before you create any content, you have to ask yourself these questions:
HOW DO I STRUCTURE MY MARKETING CONTENTS?
Storytelling using trending issues… Be clear about this!
WHY ARE YOU CREATING THESE MARKETING CONTENT?
To build influence or market your product?
WHAT KIND OF CONTENTS DO I CREATE?
Text, audio, video or graphics?
WHEN DO I POST MY CONTENT?
You have to post it when you're sure your audience are actively online—the particular time they engage actively online.
HOW DO I CREATE A PERFECT CONTENT MARKETING PLAN?
Good question! In my next article, I'll explain the steps you will take to create a content marketing plan that will yield great results for your business.
Was this  article helpful? Share to a friend who needs to see this.
---
Click here to Apply for Connak($5000) Foundation Entrepreneurship Initiative
---