Grants
ACT Foundation 2024 Grant Cycle for Nonprofits and Social Enterprises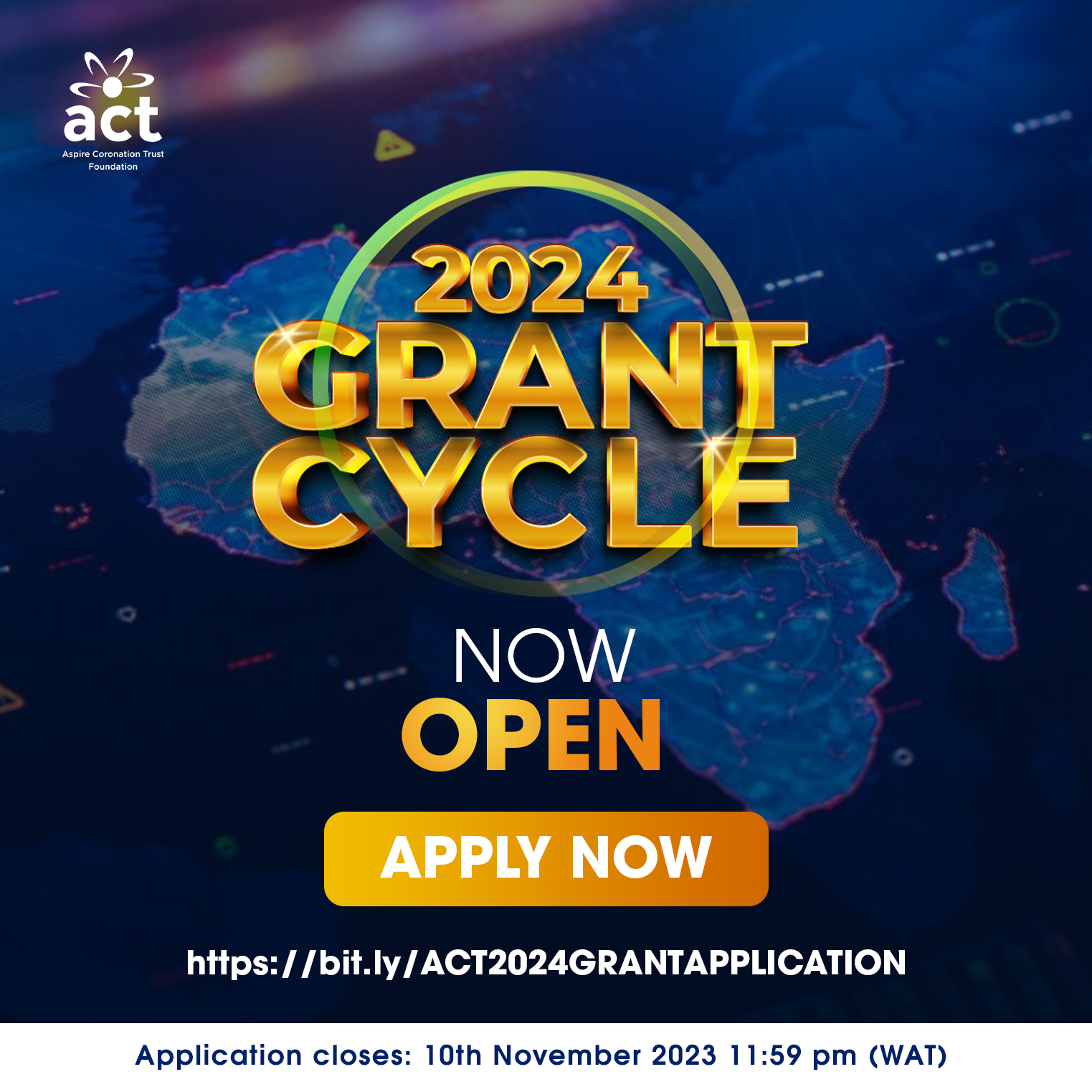 ACT Foundation 2024 Grant Cycle for Nonprofits and Social Enterprises
Applications are open for the ACT Foundation 2024 Grant Cycle. Aspire Coronation Trust (ACT) Foundation is a grant making organization established in 2016 to support local, national and regional non-profit and social enterprise organizations working to address challenges and related vulnerabilities across Africa
ACT Foundation supports sustainable high impact initiatives that provide innovative solutions to social, economic and environmental challenges in Africa. Their vision is to leverage relationships to create effective social impact solutions across Africa. We are on a mission to build sustainable societies by engaging initiatives that unleash potentials and empowers beneficiaries.
class="wp-block-heading">About

Aspire Coronation Trust provides funding to the following areas
Health: In line with the Sustainable Development Goal (SDG) 3, we aspire to ensure health and well-being, especially for the vulnerable and marginalized groups in society. They support an array of programs and initiatives that provide innovative and sustainable solutions in the areas of Maternal and Child Health, and Non-communicable Diseases
Environment: ACT Foundation is committed to supporting human activities that ensure access, availability and sustainable management of water and sanitation for all, make cities and human settlements inclusive, safe, resilient and sustainable and take urgent action to combat climate change and its impacts on vulnerable communities in line with SDG Goals 6 (Clean water and sanitation), 11 (Sustainable cities and communities) and 13 (Climate Action). They support programs and initiatives in Integrated Waste Management, Access to Safe Drinking water, and Climate Action.
Leadership: ACT Foundation, aims tto raise a new generation of credible, accountable and ethical leaders who will drive initiatives that promote effective and sustainable, economic and human development. Their focus is on the development of individuals (particularly young people and women) towards good governance, economic development, and organizational and professional development. Thus, they support initiatives aimed at Youth Leadership, Thought leadership, and National Development
Entrepreneurship: Sustainable Development Goal 8 reaffirms the need to promote sustained, inclusive and sustainable economic growth, full and productive employment and decent work for all. ACT Foundation's entrepreneurship intervention seeks to support initiatives that improve the livelihood of individuals and families through income generation and economic empowerment thus reducing poverty. Their focus is hinged on Acquisition of Vocational and Digital Skills and Financial Literacy and Inclusion.
Eligibility Requirements
Organizations applying for ACT grant must meet the following criteria:
Work within the ACT Foundation's focus areas of Health, Entrepreneurship, Leadership, and Environment.
Be registered with the appropriate legal entity within their respective (African) countries for not less than two years (24 months).
Be legally registered as a non-profit organization (GTE/LTD). However, if applying as a social enterprise, the Foundation will only fund initiatives that are not for profit.
Show a strong governance structure. Details of the board of directors should reflect in the company's registration documents. If not, please update.
Show evidence of other sources of funding.
Have a minimum staff strength of 3 part-time/full-time paid Individuals.
Be directly responsible for the preparation and management of the project, i.e. not acting as an intermediary.
Program/Initiative must be implemented within Africa.
ACT Foundation grants WILL NOT be extended to the following:
Individuals.
Non-profit without a legal Board of Directors or Trustee (as stated in your registration documents).
Any entity that has mismanaged other foundation's funds in the past.• Political parties, campaigns groupings, institutions or their subsidiaries and affiliates.
Organizations that advocate, promote, or espouse inhumane policies, illegal activities or terrorism.
Deadline: November 10, 2023 1.59pm WAT
For more details, visit Act Foundation 2024 Grant Cycle
See more opportunities