Grants
Rehoboth Hearts of Hope Foundation – Community Development Grants for Corps members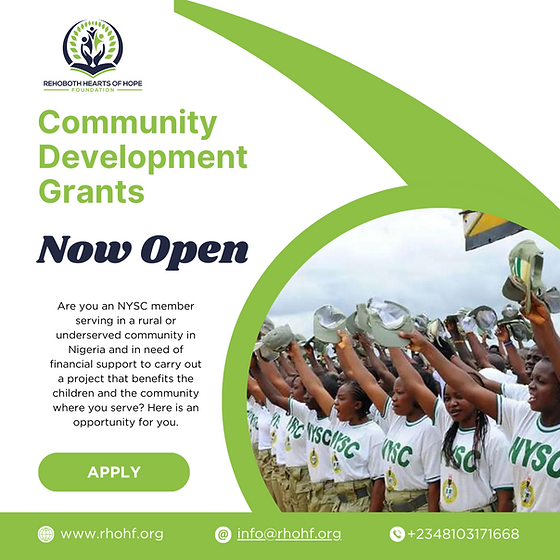 Rehoboth Hearts of Hope Foundation – Community Development Grants for Corps members
The Rehoboth Hearts of Hope Foundation is committed to giving Community Development Grants for corps members serving in rural areas in Nigeria. Through financial assistance and an open application process, they are making strides in uplifting these communities and providing opportunities for growth.
Rehoboth Hearts of Hope Foundation is a nonprofit organization dedicated to honoring the memory of Mrs. Alice Abike Ijelu. She was a remarkable individual known for her unwavering generosity and boundless love for others. Their mission is clear: to transform lives through education, scholarship provision, skill acquisition, and community development.
One of the pivotal aspects of their mission is to support corps members who are currently serving in these rural areas. These young and passionate individuals often face various challenges during their service, but with the foundation's support, they can make a significant difference in the lives of the communities they serve.
About
While they welcome a wide range of projects proposed by the serving corps members, the projects that will have a direct impact on children, girls, and women in these communities will be of high priority.
Children, as the future of any society, need all the support they can get. Through the projects funded by Rehoboth Hearts of Hope, these young minds receive opportunities to access quality education and healthcare, which can shape their future in profound ways.
Similarly, supporting girls and women in underserved communities is critical for empowering them, ensuring their well-being, and enabling them to take charge of their own lives. The foundation's approach acknowledges the unique challenges these groups face and strives to alleviate them.
Eligibility Requirements
The major requirement to qualify for this grant is to be a current NYSC member with proof.
As an applicant, you must ensure that your proposed project can be completed before your Passing Out Parade (POP).
Deadline: Application is on rolling basis
For more details, visit Community Development Grants page of the Rehoboth Hearts of Hope Foundation
See more opportunities