Training
Academy for Women Entrepreneurs Jamaica Program 2023-2024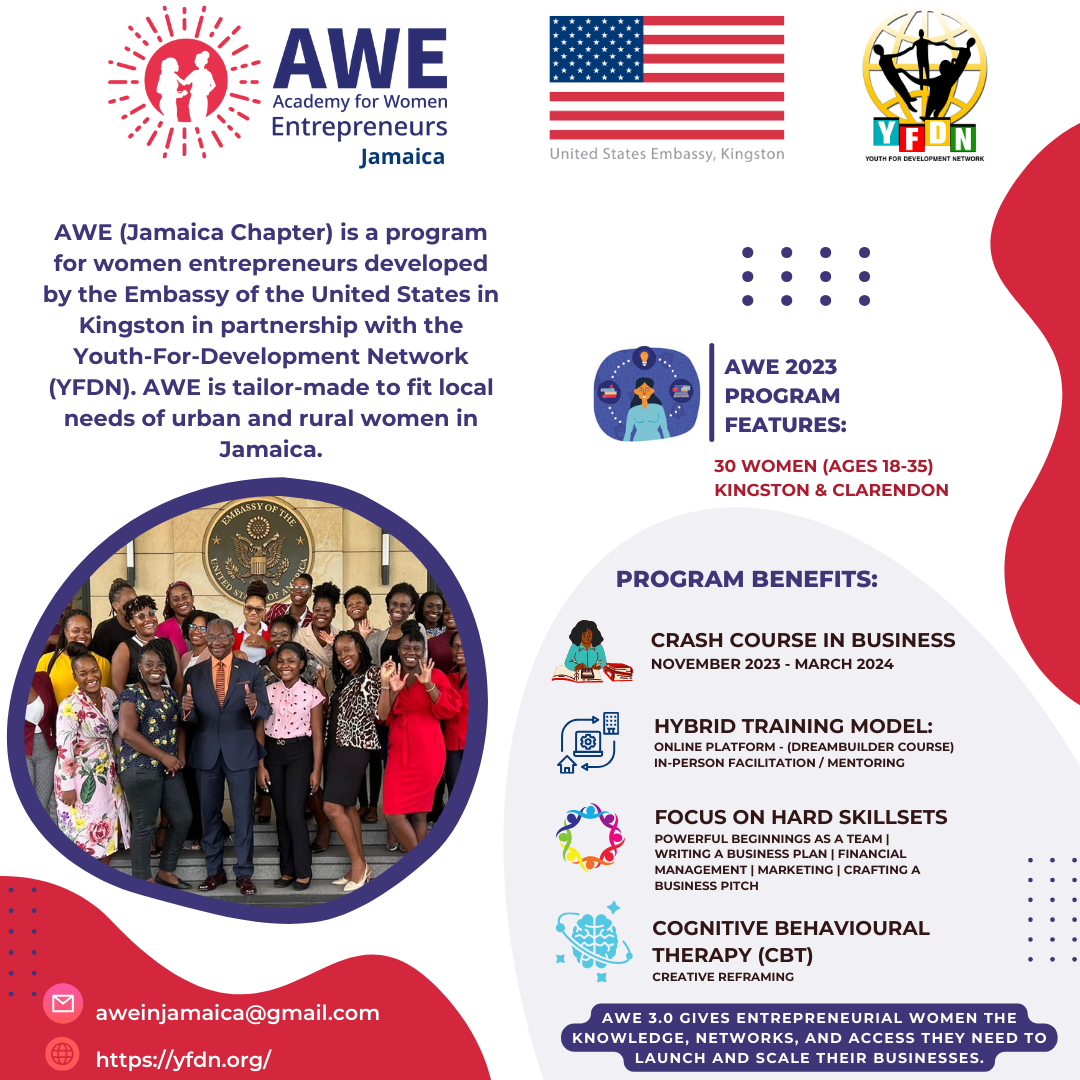 Academy for Women Entrepreneurs Jamaica Program 2023-2024
Applications are now open for the Academy for Women Entrepreneurs Jamaica! If you're a female entrepreneur wanting to launch & scale your business, this program could be right for you!
The Academy for Women Entrepreneurs (AWE) gives enterprising women the knowledge, networks and access they need to launch and scale successful businesses. By promoting women's economic opportunities and ensuring that women have the capabilities and resources needed to participate in the economy, the AWE program directly supports the U.S. National Strategy on Gender Equity and Equality.
At a local level, AWE harnesses the power of public-private sponsors, local partnerships and U.S. Exchange Alumni networks to help women and their businesses grow, driving localized prosperity in communities in more than 100 countries worldwide.
Benefits
Crash course in business from November 2023 to March 2024
Hybrid Training Model: Online Platform (Dreambuilder course), In-person Facilitation, Mentoring
Focus on Hard Skillset: Powerful beginning as a team, Writing a Business plan, Financial Management, Marketing, Crafting a Business Pitch.
Cognitive Behavioural Therapy (CBT): Creative Refraining
Eligibility Requirements
Applicants must be women between the ages of 18-35
Application is open for those in Kingston and Clarendon
Deadline: October 30, 2023
For more details, visit Academy for Women Entrepreneurs Jamaica
See more opportunities