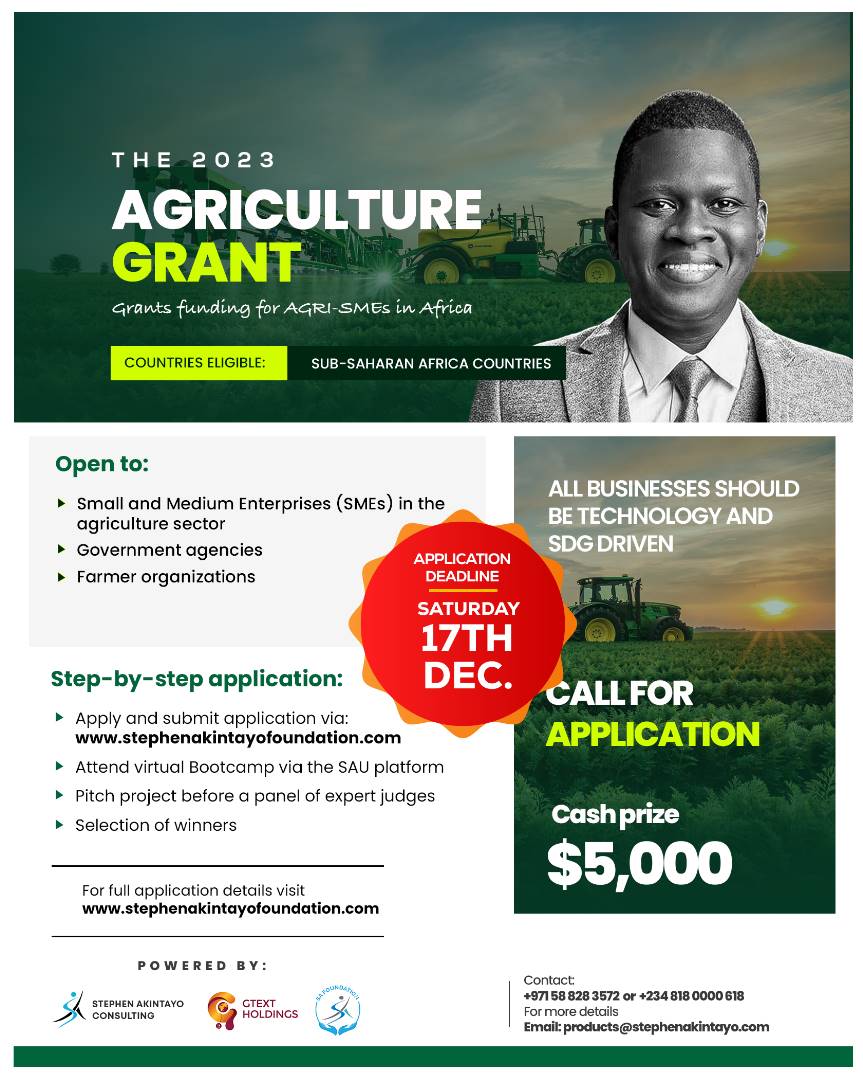 The 2023 Agriculture Grant($5,000 each) – Dr Stephen Akintayo Foundation
The 2023 Agriculture Grant is aimed at recognizing the extraordinary individuals, groups or institutions in African agriculture.
Moreso, It is designed to support small-scale farmers with viable Agri-business with equity-free capital required to scale their businesses.
Also, the $5000 prize encourages Africans who are taking control of the agriculture agenda and changing the reality of farming in Africa from a struggle to a thriving business. It puts a bright spotlight on bold initiatives and technical innovations that can be reproduced across Africa.
Areas of focus for the 2023 Agriculture Grant
Smart farming
Livestock
Nutritious food production systems
Farming as a career
OBJECTIVES OF THE AGRICULTURE GRANT
To make Agri-business more attractive
Reduce the rate of unemployment
Drive youth engagement in agriculture
Train and empower youths in agro-practices
Put a spotlight on achievements and innovations that can be reproduced across Africa.
Also Apply: Deji Alli Innovators Competition (N12,000,000 in prize)
TARGETS
The target is small-scale businesses who jointly account for majority of the food consumed. 
SPECIFIC PLAN
The Agriculture Grant aim at supporting agricultural growth in different ways including:
Investing in technologies that address the specific needs of small-scale farmers in sub-saharan Africa otherwise called smart farming. 
Investing in sectors to develop a more effective delivery system for produce.
Investing in developing innovative support mechanisms for small-scale farmers that provide now sustainable options for earning income. 
ELIGIBILITY FOR THE 2023 AGRICULTURE GRANT
The 2023 Agriculture Grant can be awarded to any individual or identifiable group or established institutions, associations, organizations, or government bodies with a formal and recognized judicial and organizational structure contributing to the overall objectives of the Grant.
The Grant can be awarded to any qualified candidate with business resident in Sub-Saharan Africa.
SELECTION CRITERIA
The Grant committee considers the following criteria for the Grant:
First, it must contribute to reducing poverty and hunger and improving food security in measurable terms.
Ability to provide a vital source of income and/or employment in measurable terms
Increased awareness and cooperation among African audiences and organizations.
Proven leadership potential of the individual or organization, particularly the ability to persevere despite significant challenges or risks
Proven tangible results, scalability and value creation derived from candidate's work either directly or indirectly.
Consideration will be given to circumstances under which the project has been carried out and results achieved.
NOMINATION & SELECTION PROCEDURE
The procedure for the Agriculture Grant 2023 starts with applications being sent to the Stephen Akintayo Foundation through the website at www.stephenakintayo.com on or before 17th December, 2023.
Applicants are required to feel the necessary application form, complete the assessments and fill the investment questionnaire as provided on the platform.
Applicants will then be required to submit a one minute video pitch via the same platform.
Shortlisted candidates are contacted and required to attend a virtual bootcamp for one month via the Stephen Akintayo University platform. Candidates will be subjected to intense mentorship by experts in the Agricultural sector.
The top 10 businesses from the bootcamp will then pitch before a panel of expert judges and investors. 3 winners are selected for the final stage.
The Winner(s) is selected based on the judge's discretion
Presentation of Grant
BENEFITS
Winner will gets technical support for their businesses
Access to Stephen Akintayo University resources
Participation in other training programs
Winner continues to enjoy exclusive access to expert mentorship, insider opportunities and a robust support network that will open doo
Also Apply: Milken-Motsepe Innovation Prize for AgriTech