Education
Scholarships
Commonwealth Split-site Scholarships 2023 for low and middle-income countries to Study in the United Kingdom | Fully Funded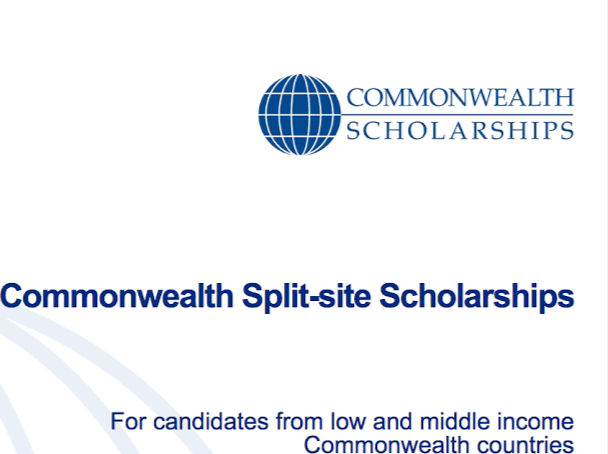 Commonwealth Split-site Scholarships 2023 for low and middle-income countries to Study in the United Kingdom | Fully Funded
Funded by the UK Foreign Commonwealth and Development Office (FCDO), Commonwealth Split-site Scholarships enable talented and motivated individuals to gain the knowledge and skills required for sustainable development, and are aimed at those who could not otherwise afford to study in the UK. They offer PhD scholars studying at eligible universities across the Commonwealth the opportunity to conduct research at an institute in the UK for 12 months.
Purpose of Commonwealth Split-site Scholarships 2023 for low and middle-income countries: 
To provide high-quality doctorate candidates from low- and middle-income Commonwealth nations with greater access to UK equipment and knowledge, as well as to contribute to UK and Commonwealth higher education and research through collaboration and partnerships.
class="wp-block-heading">Intended beneficiaries of the Commonwealth Split-site Scholarships 2023: 

High-quality graduates with the potential to become significant instructors or researchers in their native countries, and whose proposed research has a developmental focus.

Commonwealth Dual-site Scholarships are available in six CSC Development subjects.
Supporting documentation:
Applications must include supporting documentation to be eligible.
Candidates must obtain references and supporting statements from referees and possible supervisors in the UK, on institution letterhead or an email clearly displaying the sender's identity, and then upload these in PDF format to the application system along with their other supporting material. Previously, referees and supervisors would have received a second email requesting their references and supporting remarks.
The references and supporting statements must be uploaded to the application system by the application deadline. We are unable to accept references and supporting statements any other way or after this date.
Candidates must upload the following documents with their application:
Proof that the applicant is a citizen or has refugee status in an eligible Commonwealth country: a copy of a valid passport (or national ID card) showing a photograph, date of birth, and country of citizenship
Full transcripts detailing all higher education qualifications, including to-date transcripts for any courses currently being studied, with certified translations if not in English
References from at least two individuals on institutional letterhead
Supporting statement on institutional letterhead from a proposed supervisor in the UK from at least one of the institutions named on the application form
Supporting statement on institutional letterhead from the current supervisor at the home university
If any of the required documentation is not provided by the closing date, the application will be considered ineligible.
Candidates can also upload any university admissions letter held for their chosen courses.
The CSC will not accept supporting documentation submitted by nominating agencies or outside the online application system.
Please note that the CSC does not charge candidates to apply for any of its Scholarships or Fellowships through its online application system, and it does not charge organizations to nominate candidates.
Candidate eligibility for the Commonwealth Split-site Scholarships 2023
To apply for these Scholarships, prospective Scholars must:
Be a citizen of or have been granted refugee status by an eligible Commonwealth country, or be a British Protected Person
Be permanently resident in an eligible Commonwealth country
Be registered for a PhD at a university in an eligible Commonwealth country by the time your Scholarship starts (September 2023)
Ensure that an institutional or departmental link exists between your home university and your proposed UK university. This link must be greater than simply a collaboration between individuals – see the section on 'Tenure and placement' for further details. Both supervisors must provide a supporting statement that provides further details of the link to ensure your application is eligible.
Be available to start your academic studies in the UK in September 2023
By September 2023, hold a first degree of at least upper second class (2:1) honours standard, or a lower second class degree and a relevant postgraduate qualification (usually a Master's degree)
Be unable to afford to study in the UK without this scholarship.
Commonwealth Split-site Scholarships 2023 Eligible countries
Please note that only candidates from the eligible countries listed below can apply for Commonwealth Split-site Scholarships in 2023/24.
Bangladesh
Beliz
Botswana
Cameroon
Dominica
Eswatini
Fiji
Gabon
Ghana
Grenada
Guyana
India
Jamaica
Kenya
Kiribati
Lesotho
Malawi
Malaysia
Mauritius
Montserrat
Mozambique
Namibia
Nauru
Nigeria
Pakistan
Papua New Guinea
Rwanda
St Helena
St Lucia
St Vincent and the Grenadines
Samoa
Sierra Leone
Solomon Islands
South Africa
Sri Lanka
Tanzania
The Gambia
Togo
Tonga
Tuvalu
Uganda
Vanuatu
Zambia
How to apply for Commonwealth Split-site Scholarships 2023 
Applications for Commonwealth Split-site Scholarships for the 2023/24 academic year are now open.
The closing date for applications, including all supporting documentation, is 2 March 2023 at 16:00 GMT.
Applications must be made using the CSC's online application system.
Candidates must apply to study at a UK university that has a part funding agreement with the CSC. Part funding agreements are at the discretion of individual universities. For a list of universities that have agreed to part-fund Commonwealth Scholarships, visit the UK universities with part funding agreements page on the CSC website.
Candidates are advised to complete and submit applications as early as possible, as the online application system will be very busy in the days leading up to the application deadline.
See other opportunities