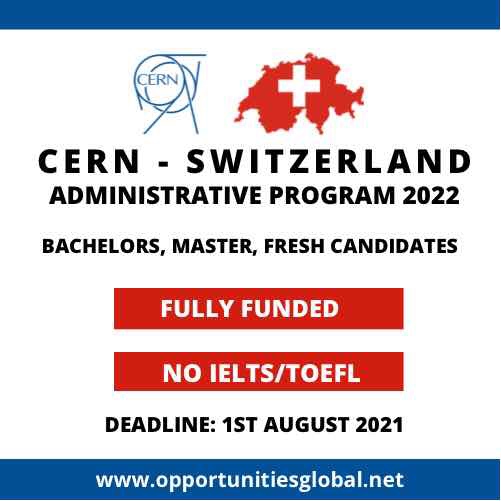 Applications are open for the CERN Administrative Student Program in Switzerland 2022.
Opportunities Circle brings another excellent opportunity for academically eligible students eager to enhance their skills in administrative fields. CERN offers international students a chance to gain experience in their relative fields and teach students the tasks relating to how to compete in this revolutionary world and represent their skills and knowledge. The world's famous organization and the world-leading scientific center CERN offers students fully funded internships and experience and opportunities to learn skills required for their future careers.
The CERN Internship welcomes undergraduate and master's degree students to apply for the CERN Administrative Student Program. This internship

program in Europe is offered for different fields, including translations, human resource management, advanced secretarial work, business administration, law, logistics and finance, communications, library sciences, public relations, physiology and many other related fields.
The interns will get a chance of spending 2 to 12 months at one of the top European Organizations to excel in their related fields by getting practical knowledge of their fields. It will also be an excellent addition to your CV that will be helpful for your future career. CERN welcomes all eligible international students enrolled in an undergraduate or postgraduate degree program as full-time students. As the internship program is fully funded, interns will be provided with a monthly stipend, travel allowance and medical insurance. Make sure to read the article until the end, so you don't miss any important detail
Areas of Internship
Translation
Human Resources
Advanced Secretarial work
Business administration
Logistics
Law
Finance
Accounting
Library and information science
Engineering department
Science communications
Education
Audiovisual
Communications and public relations
Psychology
Audit
Deadline is August 1, 2022
Country: Switzerland
Financial coverage: Fully Funded
Deadline: August 1, 2022
Eligibility Criteria :
Here are the eligibility criteria CERN Administrative Student Program in Europe:
Applicants must be nationals of CERN Member or CERN Associates Member States.
They must have completed 18 months of their studies, either bachelor's or master's degree.
Furthermore, they must be specializing in administrative areas at the time of the internship.
Applicants must be able to stay for 2 months minimum or 12 months maximum
Students must be registered in a full-time program even after completing their internship.
Applicant must be proficient in English or French language.
Moreover, those studying STEM/Engineering related fields are not eligible.
Benefits :
Here are the benefits of the CERN Administrative Student Program:
Internship contract for 2 to 12 months and an opportunity to live in Europe.
A monthly allowance of 3319 francs will be provided.
CERN will provide a travel allowance.
In addition, a Supplementary grant if the intern is married or has children.
Moreover, CERN will cover medical assurance.
Plus, monthly 2.5 leaves.
Other details :
Required Documents:
A CV.
Motivation letter.
A copy of recent academic transcript must represent the academic work.
A reference letter from the university professor.
A second reference letter from a previous internship if the student has done any prior internship.
Reference letter (submitted by the applicants with the application or by the referee on their own via the received application link).
Application Process:
Applicants can apply for the CERN Administrative Student Program through the online application.
Click on the I'm interested option on the official website.
Applicants have to sign in through LinkedIn, smart-profile, or Indeed or upload their CV/Resume in the resume box.
Applicants must provide correct information.
Motivational message that shows the dedication and commitment for the CERN Internship Program.
If the applicants apply for more than one internship, each application must be filled separately.
Applicants must make sure to apply before the deadline ends.
The deadline for the CERN administrative student program is August 1, 2022.
Apply here
---
Click here to Apply for Black Founders Fund $100k equity free
---