Grants
The Platform Young Professionals Bootcamp (YPB) 2022 for Young Nigerians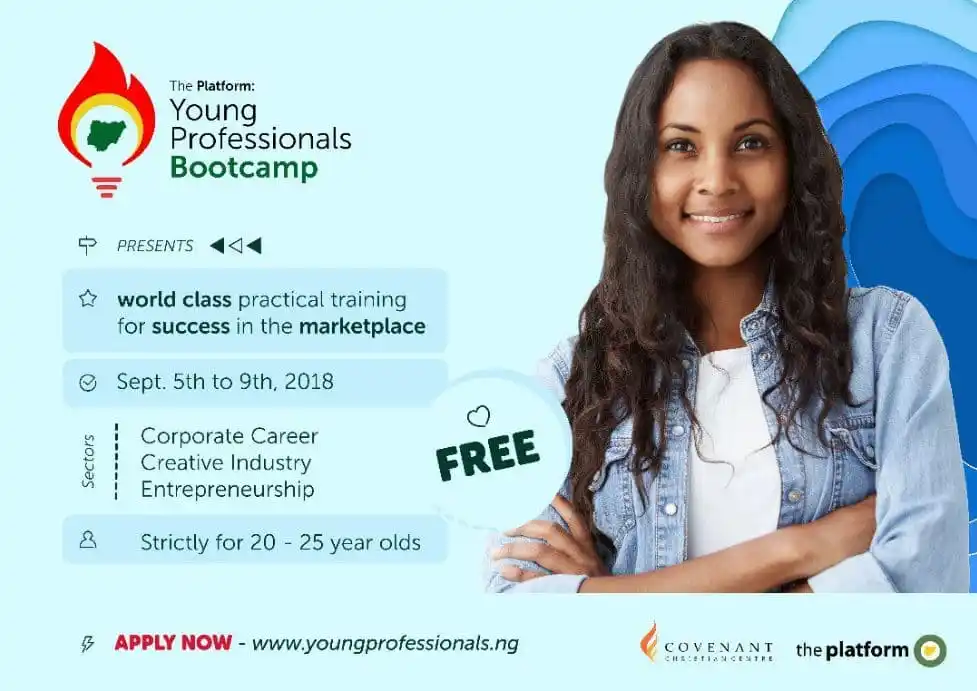 Young Professionals is currently accepting applications for the 2022 Bootcamp. Young Nigerians aged 20 to 25 who have demonstrated strong leadership potential and are looking to build successful careers in Business, Corporate Employment or Governance
Application Deadline: 29th April 2022
Eligible Countries: Nigeria
To Be Taken At (Country): Lagos, Nigeria
About The Platform Young Professionals Bootcamp: 
The Young Professionals Bootcamp (YPB) is a 5-day in-residence program for high potential 20-25-year-olds to learn world-class practical training, inspire innovation, drive success in the marketplace and ultimately lead to the transformation of the Nigerian economy.
Fields of Training: 
This year's edition has been streamlined into 3 key sectors:
Entrepreneurship
Creative Industry
Corporate Career
Type: Training, Entrepreneurship
Eligibility:
To be eligible for The Platform Young Professionals Bootcamp, interested applicants must:
be between 20-25 years by July 2022.
have a passion for success.
Number of Awards: 
200 participants will be selected from a pool of numerous applications to attend.
Value of The Platform Young Professionals Bootcamp:
 Opportunities like mentoring, internships and investment seed funding opportunities will be accessible to the most promising participants.
Professional skills: Fellows are exposed to critical skills, tools, and resources they require to thrive in their chosen career, via general training on leadership and curated sessions for entrepreneurs, corporate professionals, and creatives.
Mentorship: Fellows meet, engage and learn from the insightful stories and experiences of established industry mentors across the business, corporate career and creative industry.
Community & Networking: Fellows connect with one another and nurture rewarding relationships that will accelerate their career trajectory in the short and long term.
Post-Bootcamp Support: Fellows expand on the skills and contacts they gain throughout the program by taking advantage of continuous professional development, networking, and collaboration opportunities provided by The Platform YPB
Duration of The Platform Young Professionals Bootcamp: 5 days. The venue will be communicated to successful applicants.
How to Apply: Apply Here
Visit Programme Webpage for Details
Award Providers: Covenant Christian Centre (The Covenant Nation)
---
Click here to Apply for Mercy Corps Ventures Crypto For Good($1M for 10 startups)
---
For faster updates:
Join our Telegram Channel
Join our WhatsApp Group