Grants
The Kukah Prize for Young Innovators(N3.5M Grant)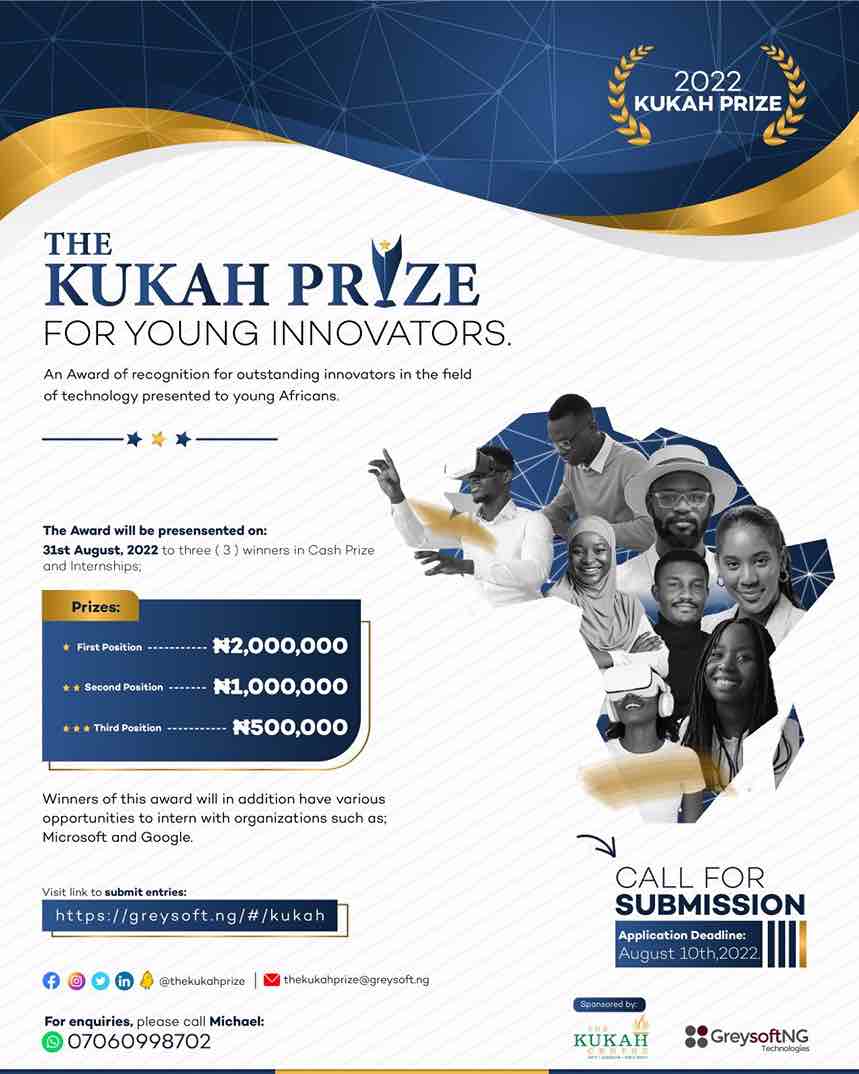 Kukah Prize for Young Innovators
The Kukah Prize for Young Innovators is an award of recognition for outstanding innovators in the field of technology presented to young Africans who show exceptional promise as developing leaders in digital transformation.
Bright young minds with creative technological ideas/solutions to developmental challenges both in their communities, and the world at large will be evaluated by judges in the startup and tech space across the continent for the most innovative digital ideas/solutions in the form of startups or initial concepts meeting global developmental challenges.
The Kukah Prize for Young Innovators is intended to support and spur young and innovative Africans whose ideas embody the potential to transform their communities and the world around us.
class="wp-block-heading">Eligibility and Selection Criteria:
Nominees shall not have reached their 31st birthday by the time the award is received.
Nominees must be Nigerian (Maiden Edition)
The award will be presented to an individual whose innovative work demonstrates high levels of excellence in technology.
The award winner will be selected based on the candidate's research's outstanding quality, novelty, and significance.
We encourage women and persons with disabilities to submit entries. We are willing to provide reasonable accommodations for persons with disabilities where needed.
Nominees are eligible for a single submission; multiple submissions would automatically disqualify them.
Female candidates are encouraged to apply.
Entry submissions are FREE.
About the Kukah Centre
The Kukah Centre (TKC) is a Nigeria-based policy research institute, founded by Most Rev. Matthew Hassan Kukah, Bishop of the Catholic Diocese of Sokoto. The Centre has offices in Abuja and Kaduna.
It treats political leadership as a collaborative exercise that requires multiple governance structures at various levels – individuals, households, small businesses, the organized private sector, NGOs and government. Interfaith dialogue is at the core of the Centre's work and involves actively promoting conversations among Nigeria's faith communities, as well as between leaders in faith and public policy.
The Kukah Centre aspires to become Nigeria's leading institution for the promotion of an active and engaged citizenry by providing support for inclusive dialogue and advocacy initiatives.
We are interested in innovative tech ideas/solutions that can make a lasting change in your community or globally. Imagine an idea that combats climate change (13) and restores terrestrial ecosystem (14). These ideas are in line with the Sustainable Development Goals(SDG 13&14) ; they preserve the sustainable future.
Kukah Prize for Young Innovators Live Award Ceremony
Aug 31st, 2022
Three selected winners will receive the Kukah prize for young innovators in the Federal Capital Territory(FCT), Nigeria.
The Kukah Prize for Young Innovators is for bright young minds who show exceptional promise worthy of recognition on a global stage; using technology to improve the lives of people and our collective African environment.
Lastly, kindly note before submitting entry, please note that you will be required to upload a one minute video on YouTube, introducing yourself, your idea and elaborating on how your idea will make your community a better place, then share the link.
Read More:
For faster updates:
See other opportunities: