Grants
2022 West African Research Center Travel Grant (up to $3,000)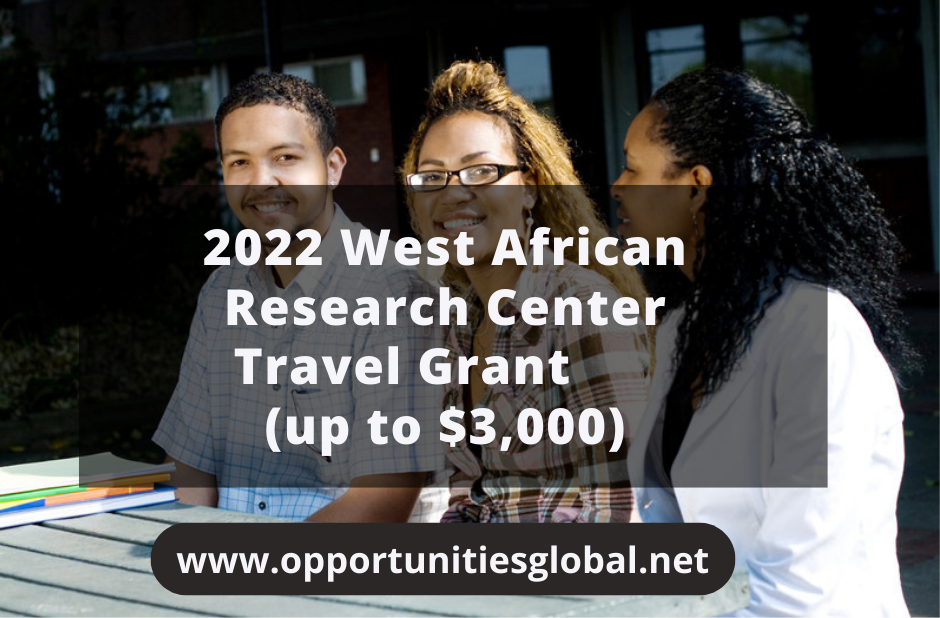 The 2022 West African Research Center – WARC Travel Grant, applications are now being accepted.
By supporting African academics and graduate students traveling to different institutions and regions on the continent for research, the WARC Travel Grant fosters intra-African cooperation and interaction among researchers and institutions.
Uses for travel grants include:
Firstly, you will attend academic conferences conducted on the African continent and present papers there.
Also, you will visit African-based archives or libraries that have materials relevant to the applicant's scholarly study.
More so, you will work with colleagues at another African institution.
And also visit a research location in Africa.
WARC Travel GRANT Value:
The WARC Travel Grant covers up to $1,500 in travel expenses and a $1,500 stipend.
Eligibility for WARC Travel Grant
Firstly, the grant is only accessible to citizens of West Africa;
And also, preference will be given to those connected to colleges, universities, or research institutions in West Africa.
Application
Application requirements:
Abstract of suggested activity (50–80 words) with a specific goal
Project or Research Description (6 double-spaced pages maximum), Including Justification for Travel (must be in language understandable to non-specialist readers)
And also the students proposed spending plan
Personal statement (with research and teaching record)
The applicant's passport photocopy (must be a West African national)
Every application must be submitted online as a PDF file.
Also a recommendation letter is required for all applicants.
In case of conference attendance:

Firstly, a summary of the article to be read
and also acceptance letter for the conference
Visiting a different institution

the host institution's invitation

If a trip is necessary to consult archives or other sources:

an explanation of the collections that will be used and why they are important to the applicant's research

if you are a graduate student

a letter of recommendation from the professor who is supervising your research