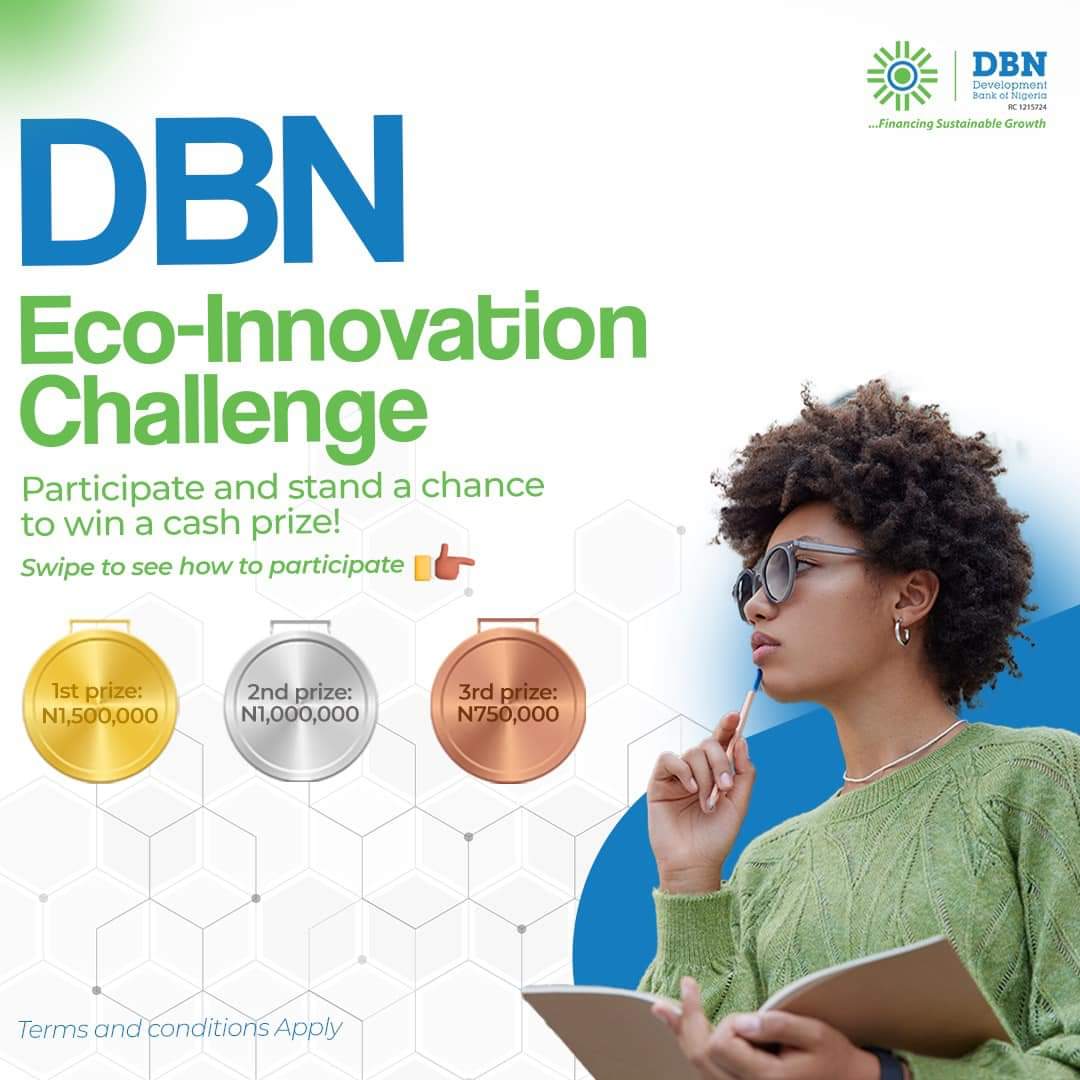 DBN EcoInnovation Challenge
Are you an entrepreneur with innovative ideas in any of the following sustainability areas?
Environment
Agriculture
Energy
Join the DBN Eco-innovation Challenge and stand a chance to win the grand prize of N1,500,000 to support your innovation.
Prize Awards:
First Prize: 1.5Million Naira
Second: 1M Naira
Third Prize: 750 Thousand Naira
How to participate:
Sign up on BizAid here and follow DBN across Instagram, Twitter and Facebook.
Share a 2-minute video application on any of the preferred platforms, explaining your innovative solutions in your preferred sustainability area. Use the hashtag #DBNEcoInnovationChallenge and tag DBN.
Submission of entries are open from April 10th – 30th.
Terms & conditions apply.
dbnecoinnovationchallenge #sustainability #technology #entrepreneurship
About Development Bank of Nigeria
The Development Bank of Nigeria (DBN) is a wholesale financial institution. Its primary goal is to expand access to funding for micro, small and medium-sized enterprises (MSMEs). Credit is advanced through eligible financial intermediaries i.e. Participating Financial Institutions (PFIs).
Through the provision of credit, the DBN seeks to ease the financing constraints faced by businesses across Nigeria. As well as providing credit, the DBN also gives partial credit guarantees — to eligible financial intermediaries (PFIs). In doing so, the DBN has encouraged them to take on more lending risk.
With the provision of additional capital, the DBN has contributed to lowering interest rates and increasing loan tenors — enabling businesses to make capital improvements, purchase new equipment and buy supplies.
Qualifying for a Development Bank of Nigeria loan
Any business involved in productive enterprises, is eligible for a loan with the Development Bank of Nigeria.
The DBN does not fund individuals and so, if you are not already registered, your company will need to register with the Corporate Affairs Commission (CAC).
Further, you must be a customer of one of the eligible financial institutions i.e. PFIs. This means you will need to have a bank account, with one of the following institutions:
Commercial banks
Access Bank Plc
Ecobank Nigeria Bank Plc
FCMB Ltd
Fidelity Bank Plc
First Bank Nig Ltd
GTBank
Stanbic IBTC Bank Plc
Sterling Bank Plc
Union Bank of Nig Plc
Wema Bank Plc
Microfinance banks
AB Microfinance Bank Nigeria Ltd
Accion Microfinance Bank Limited
Addosser Microfinance Bank
Baobab Microfinance Bank
Bosak Microfinance Bank
Davodani Microfinance Bank
HASAL Microfinance Bank
Infinity Microfinance Bank Ltd
La Fayette Microfinance Bank Limited
LAPO Microfinance Bank Ltd
Mainstreet Microfinance Bank Ltd
NPF Microfinance Bank Plc
Parallex Microfinance Bank
Seedvest Microfinance Bank
Trust Microfinance Bank
New PFIs are sometimes added to the list, so if your bank is not listed above, you may consider contacting them directly to inquire. Alternatively, you can apply and open a business bank account, with one of the above financial institutions.
How to apply for a Development Bank of Nigeria loan
To apply for a DBN loan, you will need to visit one of the PFIs (banks) listed above. Once there, you are required to indicate your interest in applying for a DBN loan.
The bank will proceed to assess your business as a whole and the purpose of the loan. Should its assessment be favorable, the bank will subsequently apply to the DBN for funding.
The DBN will conduct its own internal evaluation, before approving the loan. Once approved, credit will be released to the bank — which will go on to disburse the loan to you.
When applying for a DBN loan, specific requirements will vary according to the bank in question, the type of business (limited company or business name) and the loan amount needed.
Nonetheless, some basic documents will commonly be requested such as a statement of loan purpose, a business plan, financial statements and evidence of collateral offered (if any).
A checklist of what you may need includes:
Completed application form
Company profile
Business plan
Cash flow budget
Bank statements (12 months)
Audited financial accounts
Certificate of Incorporation
Valid means of identification (driving license, passport, voters card)
Proof of address
Details of collateral offered
Development Bank of Nigeria charge?
DBN loans come with flexible interest rates. These interest rates depend on the loan tenor and are linked to prevailing market rates.
How does the Development Bank of Nigeria loan differ from other business loans?
DBN loans are specifically targeted at small and medium-sized enterprises (SMEs). This ensures that SMEs have increased access to credit. Further, the DBN is able to lend money for the long term, where other commercial loans are typically short-term.
How much can I borrow from the Development Bank of Nigeria?
Individual micro businesses can access up to 10 million Naira, while those in the small category can get around 150 million Naira. For medium-sized corporates, funds up to the amount of 600 million Naira may be provided.
Does the Development Bank of Nigeria require collateral?
As the DBN lends via intermediary banks, each of these banks will have their own requirements as to collateral. However, yes, typically collateral is required. Acceptable collateral often includes:
Obligations by the Federal Government of Nigeria (FGN Bonds, FGN Eurobonds, FGN Treasury Bills etc.)
Obligations of state governments or agencies of the Federal Government of Nigeria
Other non-government debt instruments
Physical assets e.g. real estate
Third party guarantors (or collateral)