Accelerators
SME Growth Lab Africa Acceleration Program (₦500,000 grant)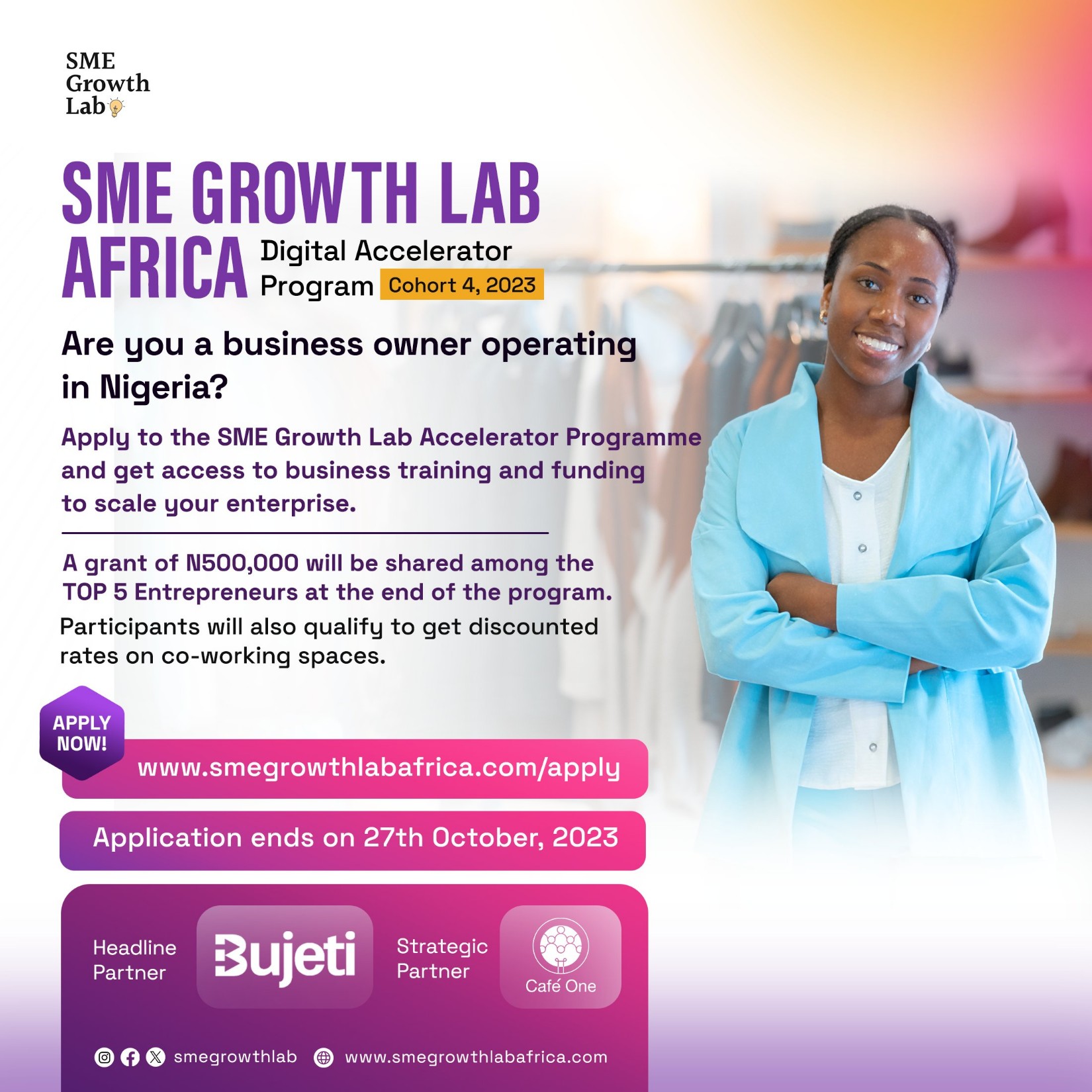 SME Growth Lab Africa Acceleration Program (₦500,000 grant)
Application is open for the SME Growth Lab Africa Acceleration Program 2023. SME Growth Lab Africa is thrilled to announce an exciting partnership with Bujeti. This collaboration marks a significant step in bolstering the growth and sustainability of SMEs in Nigeria.
As part of this partnership, a grant totalling N500,000 will be shared among the top 5 entrepreneurs who exhibit outstanding performance within the digital accelerator program. Our overarching objective is to reach and positively impact hundreds of SMEs throughout Nigeria by equipping them with essential business training, mentorship, and support. Through this initiative, we aim to enable SMEs to surmount business obstacles, nurture their enterprises, and actively contribute to the advancement of the economy.
SME Growth Lab Africa (SGL Africa) is a Digital Accelerator Program designed to empower business owners with digital skills, knowledge, mentorship and community events with the aim of transforming their businesses and driving economic growth.
Benefits
Training on business acumen: sales, marketing, finance & legal.
Exclusive access to entrepreneurship community
Mentorship from business experts
Access to business resources
Certificate of completion
24/7 support
Eligibility Requirements
Must be a business owner operating in Nigeria
Must be between ages 18 – 40
Must be comitted to attending the virtual sessions and group calls
Eager to volunteer and participate in community sessions.
Successful applicants will have the opportunity to participate in a 4-weeks intensive business training in November 2023.
Deadline: Application ends on the 27th of October 2023.
For more information, visit SME Growth Lab Africa
See more opportunities