Grants
Deadline Extended! NCC N10m Grant, Opens Applications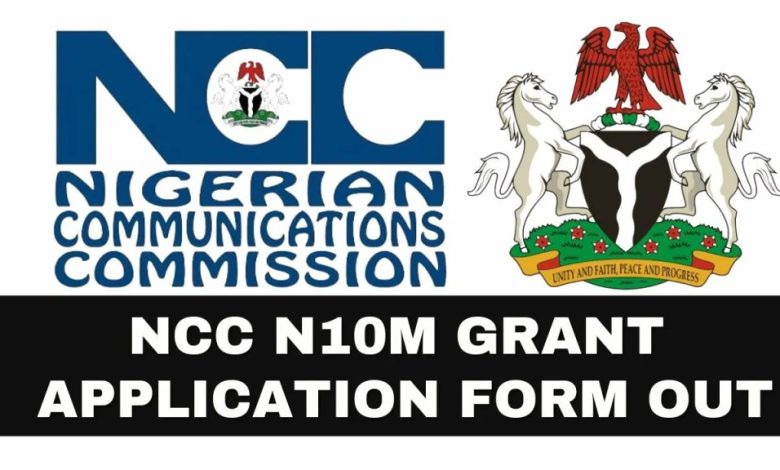 NCC Introduces a Generous N10 Million Grant: Grab Your Chance in the 2023 Applications
Apply for the NCC N10 Million Grant in 2023. Application deadline: September 22, 2023. Show your innovative ideas and help Nigeria's economy and society grow.
Get ready to make a big difference with your new solutions. Don't miss this chance
To help technology grow and make new ideas in Nigeria, the Nigerian Communications Commission (NCC) has started the 2023 Talent Hunt Research with Hackathon. This is the third time they're doing it
This special plan goes along with their big idea for 2023 to 2025. It's all about doing amazing research and helping local talent grow. It's a great chance for tech hubs and innovative companies in Nigeria to show their new ideas and make big progress.
class="wp-block-heading">Supporting Homegrown Innovations and Solutions

The NCC wants to help Nigeria's economy grow in a good way by focusing on three important things. These are:
Blockchain-Enabled Data Protection: Crafting solutions that streamline regulatory compliance.
Assistive Technology: Developing tools that aid the elderly and people with disabilities.
Renewable Energy Technology in Rural Areas: Creating solutions to enhance access to renewable energy in rural regions.
By focusing on these sectors, the commission aims to foster innovation and economic growth while advancing societal wellbeing.
Transform Your Ideas into Reality
Starting on this path, the NCC wants people to turn special ideas into real solutions that can help with problems in industries and society.
The top three solutions for those sectors will get a big grant of N10 million each to help make those solutions even better.
Eligibility and Application Details
If you want to join this competition, the NCC has set some rules to make sure it's fair and successful. Here are the important things you need to know:
Business Registration: Enterprises should hold a valid registration certificate from the Corporate Affairs Commission (CAC).
Originality: The proposed solution should be novel with a declaration of intellectual property ownership.
Relevance: The project should align with one of the three focal areas mentioned above, providing clear problem statements, proposed solutions, and a roadmap to deployment.
Previous Support: Enterprises should not have received prior support from the Commission.
Time Frame: The prototype development should be completed within six months from the grant receipt date, including a detailed commercialization plan.
The NCC wants the applications to follow a certain format that includes things like the idea, the minimum viable product (MVP), what's been invested so far, if it fits the market, and a report that explains how it can grow
Application Submission Guidelines
The application process is straightforward, and here is a step-by-step guide to aid you:
Online Applications Only: All applications must be submitted online, adhering to the stipulated format.
No Financial Cost: Participating in the competition is absolutely free.
Intellectual Property: The commission assures full control and ownership retention of the developed solution's intellectual property.
Comprehensive Submission: Applicants are required to submit a four-page executive summary of the project concept, a video showcasing the pilot project (3-5 minutes), and complete details of all team members.
Official Website: The applications should be submitted in a zip folder to NCC Talent Hunt Research Hackathon 2023 with the specified subject line and file name format.
Deadline: The commission highlights that the application window closes on Friday, 22nd September 2023.
Don't miss this opportunity to exhibit your innovation and contribute to Nigeria's economic and social advancement. Prepare yourself and seize this chance to make a significant impact on society with your groundbreaking solutions.
Be the change, be the innovation with the NCC Talent Hunt Research Hackathon 2023!