Grants
Final Global Youth Mobilization funding cycles ($500 – $5000)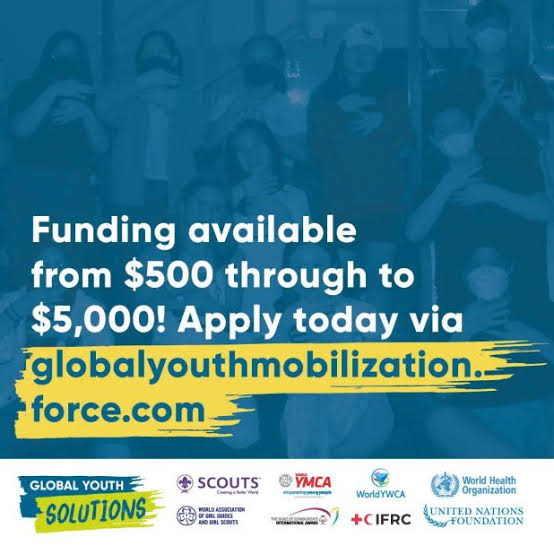 Final Global Youth Mobilization funding cycles (apply and get $500 – $5000)
Applications for the final Global Youth Mobilization funding cycles are OPEN (apply and get $500 – $5000)
Applications will be reviewed starting 1 MAY 2022
How to Apply for Global Youth Mobilization funding
Do you have an idea for a solution to overcome a challenge created by the COVID-19 pandemic? Want to support your local community? Campaign for change in your local area? You can apply for funding from $500 –$5,000 today.
No matter how big or small the idea, we encourage you to have the confidence to apply for funding. All you need to do is complete a short application form setting out your idea, what you want to achieve with the funding and upload a short video explaining why you should be awarded the funding.
Who can Apply Global Youth Mobilization funding
Any young person between the ages of 14 – 30 can apply. The core requirement is for a truly innovative and impactful idea that has the potential to impact the individual or community around them.
Applications for funding must be inclusive and from an individual young person, an informal group of young people or a local / grassroots youth-led organization (including local chapters/organizations of the bigsix.org).
Applications will be reviewed on a three month rolling cycle. There is no deadline to apply. The application platform will stay open for requests as long as funds are available.
About Global Youth Mobilization
Global Youth Mobilization is a movement of young people taking action to improve their lives now and in a post-COVID-19 world.
Supported by the world's largest global youth organizations, World Health Organization, and United Nations Foundation, Global Youth Mobilization aims to address the negative impact of the pandemic on young people and support them to build back better.
Click here for more information
---
Click here to Apply for USADF small business grants and loans.
---
For faster updates:
Join our Telegram Channel
Join our WhatsApp Group