Training
Apply to become a 2024 Internet Society Youth Ambassador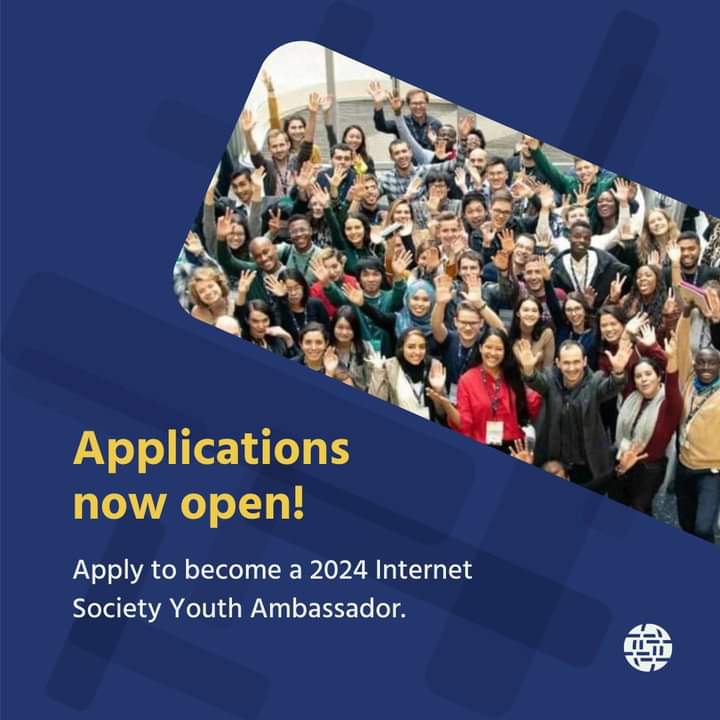 Apply to become a 2024 Internet Society Youth Ambassador
You can apply now to become a 2024 Internet Society Youth Ambassador. Each year, the Internet Society chooses fifteen young, passionate people to participate in the Youth Ambassador Program, equipping the next generation of Internet leaders to collaborate and innovate for a better world.
As a Youth Ambassador, you are equipped with knowledge and skills to influence policies that defend the Internet while innovating for a better world. The program covers courses on
About the Program
The program has an organised curriculum which covers the following courses:
Internet governance
Project management
Leadership and entrepreneurship
Advocacy and Communication
Mentorship
Internet society courses
Symposium: The program culminates in the symposium, a virtual dynamic event where you present your work, how you would leverage your multidisciplinary and multistakeholder skills, and your plans for taking your learnings and accomplishments beyond the program. This event helps you build and deepen relationships and foster community around youth engagement.
Benefits
Attend a significant Internet event especially selected for you according to your preferences, profile, and location.
Deepen your subject expertise through specific Internet governance online training.Broaden your advocacy, communications, project management, and leadership skills.
Engage and collaborate with key Internet stakeholders from around the world.
Be mentored by key Internet leaders and experts.
Develop the skills and connections needed to make more of an impact in your local community (and beyond!)
Eligibility Requirements
Be between the ages of 18-30 at the date of the submitted application
Have a high level of reading, speaking and writing skills in English
Be comfortable with public speaking and communicating positions
Have continuous access to the Internet during all the phases of the program as well as the appropriate equipment
Be able to dedicate a minimum of 4 hours per week during the full program duration
Have the availability to take part in weekly meetings and webinars, usually between 11h and 16h UTC
Be able to travel and hold a valid passport
Not have been previously selected as an Internet Society's IGF Ambassador, IGF Youth Ambassador, Youth@IGF Fellow, or Youth Ambassador
Deadline: 20 October 2023
Click here to apply
For further details, visit the Internet society website
Read Also