Competitions
Grants
Application for Cohort 3 of the Muhammad Sanusi II SDG Challenge is now open | up to $2,000 grant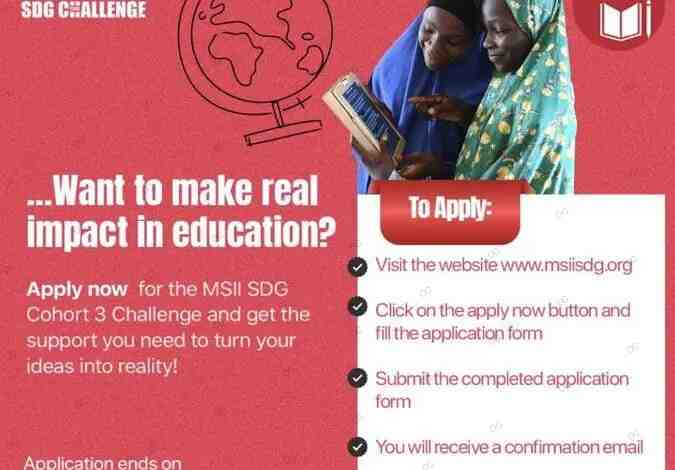 The Muhammad Sanusi II Sustainable Development Goals (MSII SDG) Initiative is inviting all teachers in Sub-Saharan Africa to apply for this year's MSII SDG Challenge.
The application period for Cohort 3 of the MSII SDG Challenge is now open to teachers who believe that education is the key to innovation and are eager to develop solutions that will improve the African education system.
This application is designed to help teachers create scalable education projects. Our goal is to inspire and support teachers in establishing innovative community projects that address SDGs 4 and 5 (Quality Education and Gender Equality). The Challenge is open to practicing teachers based anywhere in sub-Saharan Africa providing a platform for exclusive access to mentoring, training, and relevant networking opportunities to make a
lasting
impact.
His Highness Muhammad Sanusi II, 14th Emir of Kano & UN Advocate of the Sustainable Development Goals (SDGs), in partnership with 1 Million Teachers launched the annual MSII SDG Challenge in 2021.
The aim of this challenge is to catalyze and empower teachers in developing innovative community projects focusing on:
SDG 4 – Quality Education
SDG 5 – Gender Equality.
The HH MSII SDG Challenge aims for the provision of high-quality, gender-responsive education to students – particularly girls – in the most deprived regions of the world.
We do this by empowering teacher-changemakers with the skills, networks and resources they need to lead innovative and impactful community-based projects.
The HH MSII SDG Challenge will unleash the vast untapped potential of Africa's teachers, by combining their on-the-ground expertise with a dynamic, entrepreneurial support system.
The Challenge is more than an incubator or an accelerator – it is an ecosystem catalyst. By providing expertise, resources and support for teachers at various stages of their leadership journey, the Challenge will nurture a grassroots movement of teacher-changemakers.
Benefits
Teachers selected to participate in the MSII SDG Challenge will receive an initial grant of $2,000 for their projects, go through a comprehensive incubation programme and will be further considered for a follow-up grant of up to $10,000 and accelerator opportunity.
In addition, all accepted teachers will
acquire access to the 1 million teachers platform, a unique platform with access to high-quality teaching resources to boost their project and teaching outcomes.
MSII Incubator Program
In the Incubator, you will be provided with in-depth and hands-on skill-building opportunities that will equip you with the foundation to lead your own social venture. You will be exposed to concepts related to leadership and personal mastery, sustainable business model design, and the management of projects, organisations and movements. If selected for Incubation, you will be awarded up to $2,000 USD to support the development of your own lean pilot program.
Application Deadline: May 20, 2023