Grants
11 Slides You Need to Have in Your Pitch Deck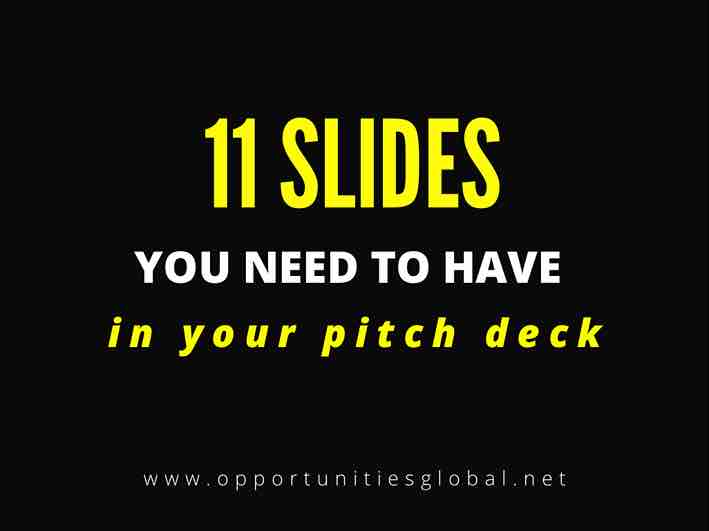 The 11 Slides You Need to Have in Your Pitch Deck for 2022
If you're raising money for your business, having an impressive pitch deck is a key component in your fundraising toolkit. A great pitch deck gets potential investors excited about your idea and engages them in a conversation about your business, hopefully leading to an investment.
In this article, I'm going to give you the formula for what you should include in your own pitch deck.
I'm leveraging the knowledge I've gained from listening to hundreds—if not thousands—of elevator speeches and pitch presentations. I've seen all different kinds of pitch decks and presentation styles and found that there's a simple formula that just works.
Let's start from the basics:
What is a pitch deck?
A pitch deck, also known as a slide deck or start-up deck, is a presentation that provides a brief but informative overview of your business. It should cover the key points of your business plan, the products and services you provide, high-level financial projections, and funding needs. Your pitch deck should work well on its own as a visual document, but it will primarily be used as a tool to tell the story of your business.
What is the purpose of a pitch deck?
This may sound counterintuitive, but the goal of your pitch deck is not to raise money. What? I know that doesn't sound right, but the real goal of your pitch deck is to get to the next meeting.
Remember, your pitch deck and pitch presentation are probably some of the first things that an investor will see to learn more about your company. And because investments rarely are made after just one meeting, your goal is to spark interest in your company. You want investors to ask for more after they hear your pitch and not just show you to the door.
So, while a solid pitch deck is critical to raising money, the key goal of the deck is to get to the next step—another meeting and a request for more information. Got the gist, right?
What to include in your pitch deck
While every business is different, I've found that the following format works for most businesses and is most likely to generate interest from potential investors.
1. Vision and value proposition
This is a quick one-sentence overview of your business and the value that you provide to your customers. Keep it short and simple. A great way to think about this slide is to imagine it as a short tweet—describe your business in 140 characters or less in a way your parents would understand.
It's common for tech companies to make their value proposition a comparison to another well-known company. For example, you see many pitches that start with things like:
"We're the Uber for Pets"
"We're the Netflix for Video Games"
This can work, but be careful to make sure your comparison makes sense and you're not just using a high profile company like Uber to signify growth potential. Your business model has to truly be similar to the company you are referencing.
2. The problem
If you aren't solving some problem in the world, you are going to have a long uphill climb with your business.
Use this slide to talk about the problem you are solving and who has the problem. You can talk about the current solutions in the market, but don't spend too much time on the competitive landscape on this slide—you'll have a chance to do that later on.
The pitch deck needs to explain a problem the business's target market faces. This information will demonstrate the necessity of your product or service in the marketplace.
Ideally, try and tell a relatable story when you are defining the problem. The more you can make the problem as real as possible, the more your investors will understand your business and your goals.
The pitch deck needs to explain a problem the business's target market faces. This information will demonstrate the necessity of your product or service in the marketplace.
3. Target market and opportunity
A target market is a group of people that share common characteristics. Every service or product is aimed at a specific group, and yours should be featured in your pitch deck. Include information on the competitive landscape in which your business exists and the market opportunity to succeed in that landscape.
Use this slide to expand on who your ideal customer is and how many of them there are. What is the total market size and how do you position your company in the market? If you can find the data, investors will want to know how much people or businesses currently spend in the market to get a sense of the total market size. This is where you tell the story about the scope and scale of the problem you are solving.
If it makes sense for your business, you'll want to divide your market into segments that you will address with different types of marketing and perhaps different types of product offerings.
Be careful with this slide, though. It's tempting to try and define your market to be as large as possible. Instead, investors will want to see that you have a very specific and reachable market. The more specific you are, the more realistic your pitch will be.
4. The solution
The solution slide should state the way(s) in which the business solves the problems that your target market is facing. The best way to relay this information is through a narrative approach—provide relatable stories of customers using these products to improve their lives. Support those statements with descriptions and visuals of the products or services themselves, including photographs, screenshots, or even video of a physical demo.
Finally, you get to dive into describing your product or service. Describe how customers use your product and how it addresses the problems that you outlined on slide two.
You'll be tempted to move this slide closer to the beginning of your pitch deck, but try and resist the temptation. This is classic storytelling where you build up the problem and describe how bad it is for lots of people. Now your product or service is coming to the rescue to help solve that problem.
Most entrepreneurs are very focused on their product when instead they need to be focused on their customers and the problems those customers face. Try and keep your pitch deck focused with this format and you'll tell a better story.
If possible, use pictures and stories when you describe your solution. Showing is nearly always better than telling.
5. Revenue model or business model
Now that you've described your product or service, you need to talk about how it makes money. What do you charge and who pays the bills? For some businesses (content sites, for example), advertisers pay the bills instead of users, so it's important to flesh out the details here.
You can also reference the competitive landscape here and discuss how your pricing fits into the larger market. Are you a premium, high-price offering, or a budget offering that undercuts existing solutions on the market?
6. Traction and validation/roadmap
This slide validates the company's business model by showing any month-over-month growth through early sales and support. The goal is to reduce any fear of risk in potential investors. This slide can include a simple bullet point list of milestones such as the number of users, annual revenue return rate, and profit margins.
If you already have sales or early adopters using your product, talk about that here. Investors want to see that you have proven some aspect of your business model as that reduces risk, so any proof you have that validates that your solution works to solve the problem you have identified is extremely powerful.
You can also use this slide to talk about your milestones. What major goals have you achieved so far and what are the major next steps you plan on taking? A product or company roadmap that outlines key milestones is helpful here.
7. Marketing and sales strategy
This slide validates the company's business model by showing any month-over-month growth through early sales and support. The goal is to reduce any fear of risk in potential investors. This slide can include a simple bullet point list of milestones such as the number of users, annual revenue return rate, and profit margins.
How are you planning on getting customers' attention and what will your sales process look like? Use this slide to outline your marketing and sales plan. You'll want to detail the key tactics that you intend to use to get your product in front of prospective customers.
Finding and winning customers can sometimes be the biggest challenge for a startup, so it's important to show that you have a solid grasp of how you will reach your target market and what sales channels you plan on using.
If your marketing and sales process is different from your competitors, it's important to highlight that here.
8. Team
The team slide will underscore a company's management team's expertise and capabilities to market and sell a product. Listing the key team members (and co-founders if applicable) and detail how their expertise and previous experience can help establish the company's competitive advantage.
Why are you and your team the right people to build and grow this company? What experience do you have that others don't? Highlight the key team members, their successes at other companies, and the key expertise that they bring to the table.
Even if you don't have a complete team yet, identify the key positions that you still need to fill and why those positions are critical to company growth.
9. Financials
Investors will typically want to see a company's financial health for a period of three to five years, including income statements, projected growth, and information on the business model itself. Infographics, such as pie charts or bar graphs, will be more effective in presenting the information than listing numbers. The information on the traction slide may help to corroborate projected figures.
Investors will expect to see your financials: sales forecast, income statement (also called profit and loss statement), and cash flow forecast for at least three years.
But, for your pitch deck, you shouldn't have in-depth spreadsheets that will be difficult to read and consume in a presentation format. Limit yourself to charts that show sales, total customers, total expenses, and profits.
You should be prepared to discuss the underlying assumptions that you've made to arrive at your sales goals and what your key expense drivers are.
Remember to try and be realistic. Investors see "hockey stick" projections all the time and will mentally be cutting your projections in half. If you can explain your growth based on traction you already have or compared to a similar company in a related industry, that is extremely useful.
10. Competition
Include information on the qualities that set your product or service apart from other entities or alternatives in its market—you can pull this information from your competitive analysis.
Every business has competition in one form or another. Even if you are opening up an entirely new market, your potential customers are using alternative solutions to solve their problems today.
Describe how you fit into the competitive landscape and how you're different from the competitors and alternatives that are on the market today. What key advantages do you have over the competition or is there some "secret sauce" that you have and others don't?
The key here is explaining how you are different from the other players in the market and why customers will choose you.
11. Investment and use of funds
Sometimes, entrepreneurs will craft a pitch deck that forgets a key piece of information: the amount of money needed to fund the project. It's important to include that detail and note how the funding will be spent to help the company reach its goals. This explanation will build much-needed trust with investors.
Finally, it's time to actually ask for the money. That's why you're doing this pitch deck, right? I know—I said that this pitch deck isn't about actually getting funded. That's still true, but your potential investors do need to know how much money you are looking for.
More importantly, you need to be able to explain why you need the amount of money you are asking for and how you plan on using the money. Investors will want to know how their money is being used and how it is going to help you achieve the goals you are setting out for your business.
If you already have some investors on board, now is when you should be talking about those other investors and why they chose to invest.
Other slides you might include in your pitch deck
While you do want to keep your pitch deck short, sometimes you may need or want to include a few extra slides that help explain your business. You likely won't utilize them when you present, but it can be a great resource for investors to review after the fact.
Here are a few additional slides that are often found in investor presentations.
Exit strategy
If you are raising money from investors, you'll need to show them how you plan on giving them a return. You do this in the form of an "exit strategy" slide that outlines who your potential acquirers might be if you manage to grow your company and be successful. Having an IPO and going public is a viable option for some high-growth startups, while other businesses are more likely to be bought by larger players in your market.
Partnerships
Some businesses have key strategic partnerships that are critical to their success. This can often be in the form of intellectual property licensing from a university or a key distribution partner who will be taking your product to market. If your success relies on these types of partnerships, it's important to showcase them.
Demo and screenshots
If you have a prototype of your product, screenshots of your online service, or any other "show and tell" opportunities, it's great to include a placeholder slide in your deck where you will actually show your potential investors how your product works and what it does.
Other documentation
Keeping your pitch deck as short and succinct as possible is critical. Remember, your goal isn't to provide investors with all the information they need to make an investment decision. Its primary purpose is to tell a story, build excitement, and help get that all-important request for additional information and a follow-up meeting.
In addition to your pitch deck, you should have more detailed, additional information that you can provide if requested. Preparing these additional documents can also help ensure that you don't try and fill your presentation with too much overwhelming information.
Tips to make your pitch successful
Here are a few tips to make your presentation as successful as possible:
Keep your pitch simple
All entrepreneurs spend countless hours "in the weeds" thinking about every last detail about their business. But, for an investor pitch, less information is better than too much. You want your slides to be simple, convey high-level ideas, and leave room for questions. Simple and straightforward presentations always do better than detailed presentations full of bullets.
Skip the bullets
Speaking of bullets, skip them. Slides full of bullet points are boring and don't help tell a story. Try and use large fonts and limit the number of words on each slide. Use images wherever possible to help tell your story and build an emotional attachment to your ideas.
Tell a story
Don't just talk about the facts. Instead, focus on grabbing interest and getting your audience excited. Your deck doesn't need to be the complete guide to your business. It just needs to generate interest so you can move on to the next step.
One of the best ways to do that is to tell stories about how your customers use your product, how they currently experience problems that need to be solved, and how your company will make the lives of your customers better. The more you can tell stories that investors can relate to, the more you'll be able to build excitement for your company.
Keep your presentation short
Make sure you have plenty of time for questions, demos, and discussions about your business idea. If you have a one-hour meeting, aim for your presentation to take 20 to 30 minutes.
Don't overstate the market opportunity
Instead of top-down forecasts where you "only need to get one per cent of a huge market" to be successful, focus on bottom-up forecasts where you detail your expectations for how you're going to acquire customers.
If you already have data on how an early version of your product is selling, use those numbers to help drive the rest of your forecast.
Ask for the money
Yes, it's a slide in the presentation deck above, but entrepreneurs sometimes forget to ask for the money. When you ask, it's very important to be able to intelligently discuss how the money will be used. Your detailed financial forecasts should also take an influx of cash into the account.
Keep your deck current
Fundraising takes time. You'll likely pitch your company many, many times before you get an investment. As legend has it, Pandora pitched more than 300 VC firms before getting investment.
Assuming you're working to build your company while you pitch to raise money, make sure that you keep your deck up-to-date with your latest progress, roadmaps, and so on. There's nothing worse than presenting an out-of-date deck to potential investors.
Send your deck as a PDF
You'll almost always be asked to either send your slides ahead of time to investors or to leave a copy behind. If this happens, don't send Powerpoint or Keynote files. Instead, send a PDF. This means that anyone who looks at the deck will see it as you intended with your chosen fonts and styles.
Make sure your deck stands alone without your presentation
Your pitch deck will always be better when you present it, but it should ideally be able to tell some of your stories without you being there to tell it. Investors might want to flip through the deck again after you're done with your presentation and it needs to have enough content that the deck can stand alone and communicate some of your core ideas.
Documents to have prepared after you pitch to investors
Developing your pitch deck is only the start of your business planning journey. You'll want to follow up on a successful investor pitch with the necessary planning documentation to support your presentation. The following are just a few documents that you should have prepared to send after you pitch.
Executive summary
An executive summary sometimes called a summary memo, is a two-to-three-page overview of your business. It's a document that investors can share with their partners and others in their firm to provide an overview of your business. Your executive summary should cover what's in your pitch deck but in written form.
Technical documentation
If you are starting a tech company or medical company, you may be asked to provide some additional detail on your technology. Investors in these types of companies will often want to vet your technical claims with an expert, so providing more detailed documentation, diagrams, workflows, and so on might be important.
Detailed financial models
Any investor that's seriously interested in your business will want to see detailed financial forecasts for at least the next three years so they can get an understanding of the underlying assumptions that are driving your forecasts.
Investors will want to see your plans for hiring and employee-related expenses, R&D expenses, manufacturing costs, marketing expenses, and so on. Be prepared to provide a detailed sales forecast, profit and loss forecast, and cash flow forecast. A balance sheet is also often required. Whenever possible, visually represent your data with graphics. It's proven to be more effective.
Detailed market research
You may be asked to provide more details on your target market and the market research you've done to date. This isn't always the case, but if you have the information it's a good idea to be ready to present it in some format. Again, this data shouldn't be part of your initial pitch deck, but instead should be ready if it's asked for.
Start developing your pitch deck
Ready to get started?
Do you still need help send us an email at [email protected] to get your pitch deck ready in 24hrs.
---
Click here to Apply for Jack Ma Business Hero Competition for African Businesses
---
For faster updates:
Join our Telegram Channel
Join our WhatsApp Group