Grants
How to win the $5,000 Tony Elumelu Grant in 2023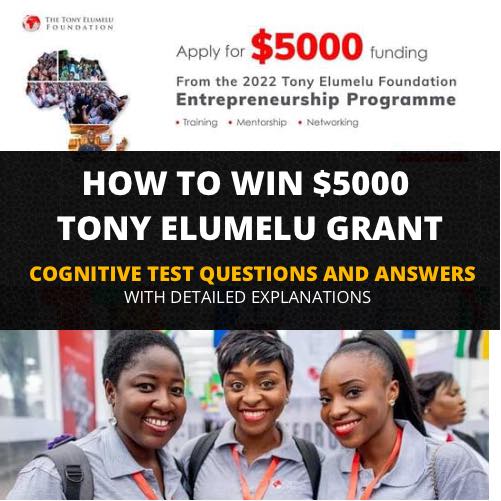 How to win the $5,000 Tony Elumelu Grant in 2023
Who wants to be a millionaire?
If what you need at the moment are answers to the TEF Cognitive Questions, Get the ANSWERS to the TEF COGNITIVE TEST QUESTIONS HERE
How to win the $5000 Tony Elumelu Entrepreneurship grant
From January 1 to March 31, entrepreneurs like you with an exciting business or idea can apply to win $5,000 and training all thanks to the Tony Elumelu Foundation.
Just like the application process in 2021, this year's TEF application is a combination of psychometric & personality tests in addition to business and financial knowledge assessment. Not to scare you but it's a bit like GMAT and IELTS with a 45 mins clock counting down every sec.
You are literally going to be guided through the registration process, then to the psychometric, personality & financial knowledge assessment.
Ready? Let's go
This guide is with 2 categories of people in mind
1. Folks who applied last year but did not get in
2. Folks who are applying for the very first time
Category 1:
If you already have a tefconnect account (meaning you applied last year but did not get in), simply log in using your login details. Continue from where you stopped last year.
Category 2:
If you are applying for the first time:
REGISTER HERE and fill in your First Name, Last Name, email address and select a password. Tick the box to Accept our Data Collection Clause & Privacy Policy and Click on "Join TEFConnect Now" button
• You will receive an email verification link (sent to your provided email address). Click on the CONFIRM EMAIL button.
• It will lead you back to a landing page to SIGN IN with your selected email and password details.
• Select the profile you would like to be registered as i.e., Entrepreneur, Mentor, or Investor/Partner…… (note to be eligible to apply, you need to be registered as an Entrepreneur)
• Set up your profile on the platform and click on "SAVE & CONTINUE".
• This action will lead you to the home page. Click on "PROGRAMMES" at the top of the page. You can also change your language here.
• Click APPLY on the TEF 2022 Programme.
Glossary of Key terms In The Tony Elumelu Foundation Entrepreneurship Programme
It's a really long list but I have done the heavy lifting for you. Here's what you need to know:
"Buffer List"
means the list of Programme Participants who have been scored/ranked closest to the Selected Entrepreneurs;
"Business"
means an ongoing endeavour for profit carried on for no more than five (5) years as at the time of Application, whether registered as a company, sole proprietorship, partnership, or other legal entity incorporated or registered in Africa and carrying on business and operating in Africa, with an African (or Africans together) owning directly/indirectly more than 50% of the voting or ownership rights in the same;
"Seed Capital"
means the funding made available to only Selected Entrepreneurs. The first stage is a non-returnable investment of the local currency equivalent of $5,000 (based on the Central Bank of Nigeria exchange rate as at the date of selection), which is paid into the Business Bank Account of Selected Entrepreneurs; the second stage is a returnable investment, which entrepreneurs will apply for and be considered for based on the viability of their business;
"Selected Entrepreneurs"
means Programme Participants who are selected from the Pitching Competition to receive the Seed Capital;
"Unsuccessful Applicants"
means Applicants who are not accepted to participate in any stage of the Programme.
Application Process
When you take the online assessment, you will either be successful or unsuccessful.
Successful applicants will be categorized into one of the following categories:
a. Start-Up,
b. Innovator,
c. Disruptor
Unsuccessful Applicants will be categorized as Preparatory and will be directed to take the Free Startup Enterprise Toolkit on TEFConnect and will be eligible to reapply for other TEF Programmes.
The entire program looks like this:
Verification & Onboarding
Successful Applicants will have to be verified and onboarded. Verification will run for the duration of the Startup Enterprise Toolkit. Successful Applicants who do not meet the verification requirements will be removed from the Programme and notified of removal via email.
Mentoring
Programme Participants will have access to a Mentor to provide guidance and support to them during the Programme.
Business Training
Once Successful Applicants are onboarded, they proceed to the training stage. The Startup Enterprise Toolkit™ will run for a period of 12 weeks. Upon completion of the last week of Startup Enterprise Toolkit™ Programme Participants will be assessed and top-scoring Programme Participants will proceed to the Business Plan preparation stage.
Business Plan Preparation & Submission
Programme Participants shortlisted from the business training stage will be given 2 weeks to develop and submit a business plan (more like a 3-page concept note) via TEFConnect for review and assessment, based on relevant metrics including feasibility and sustainability.
Pitching Competition
Top scoring Programme Participants shortlisted from the business plan stage will participate in the Pitching Competition where they will pitch their business plans to a panel of judges.
Seed Capital
The Selected Entrepreneurs from the Pitching Competition will be announced on the Foundation's website and also notified via email.
It's time to move to the business end of things…
The online application
It has four parts:
(1) Personal Information
(2) Business Information
(3) Cognitive Assessment
(4) Declaration
ONE: Personal Information
Asides from other basic bio-data like questions, you will be required to upload a form of ID (international passport, driver's license, Residency or Citizen's Card, Voters Card, Tax ID). Please have your chosen form of ID scanned and ready for upload in .pdf, .jpeg, .jpg, .png, .gif or .doc format before you begin. The portal rejects heavy files (2MB and above).
Ensure that your personal information matches the information on your government-approved ID card provided and attach all requested documents (valid identity card and photo headshot).
TWO: Business Information
Tell us about your business idea?*
Give a little description of your startup idea (or ideas). If you do not have a business idea, then describe an industry or customer problem that you might want to build a business around (minimum 50 characters)
To answer this question, I suggest you deploy your elevator pitch in one or two sentences.
How many years of business start-up experience do you have (this can be trading or anything)?
It's a dropdown. Just select the appropriate option here.
Is your idea in your field of experience? (Yes/No)
The idea answer here is yes. It makes sense to work on an idea where you have experience. Tony Elumelu Foundation is not about to flush money down the drain.
The remaining questions in this section are mostly Yes/No
· Age of business?
· Are working with a team?
· How many people are in your team( excluding you)?
· How many hours are you working on your idea per week?
· Are you currently making some revenue from your idea?
· If yes, how much are you currently making per month($)?
· Do you have any business partners?
· Do you have your business partner's consent to take part in this program?
· Is your business in a rural area?
THREE: Cognitive Assessment
It's divided into 2 parts:
1. Personality questions
2. Financial and Business Acumen Questions.
This is a timed assessment. You have 45mins to complete both sections.
THREE: Personality Assessment
Here, you have questions like:
"I can easily guess what others are thinking"
"I prefer working on realistic ideas"
"I prefer being with people who hold similar values"
Here are 4 tips to help you pass the personality test
1) Be yourself
A personality test is a two-way assessment. The purpose of this particular test is to assess whether your personality is suitable for entrepreneurship. If you don't have entrepreneurial DNA, you probably should not be applying in the first place.
2) Avoid extreme answers
Selecting highly agree or highly disagree in every response may bracket you as inflexible and robotic.
3) Answer questions with an ethical and professional mindset
Try to avoid selecting answers which could portray you as an unethical or unprofessional person. There are incorrect answers in personality tests and choosing an answer that is unethical or unprofessional is likely to be incorrect.
For instance, for a question like "if you win a $5,000 grant, what will you do with it?", an answer like "I will travel to Dubai" is most definitely the wrong answer.
4) Mind the time
Keep one eye on your stopwatch as you take the test. The only thing worse than not taking the test is ending halfway.
To further help you pass the test, here are 5 personality traits identified to be compatible with a prosperous entrepreneurial career:
1) Achievement Striving
This is an individual's intrinsic motivation and efficiency of work completion. Entrepreneurs will usually be responsible for their own work hours and set their own deadlines meaning it would be easy to underachieve if they lack initiative, as there is no one to answer to when tasks are not completed.
2) Industriousness
This is considered to be an indicator of levels of persistence and hardiness, the ability to overcome difficulties and to remain functional in stressful situations. It can also convey a willingness to work hard and to offer additional efforts when required. Due to the number of challenges and disappointments associated with building a successful business from the ground, it is important that the individual is able to persevere with various efforts or attempts in order to achieve success.
3) Passion
This refers to one's enthusiasm, personal commitment to achieving goals, and the extent to which they will go in order to get ahead. More often than not, those who possess an emotional affinity with their career of choice are more likely to succeed.
4) Taking Control
This is linked to how far the individual believes themselves to have control over a situation and its outcomes, thus affecting their perception of positive and negative events. This idea originated from the psychological theory known as "Locus of control" which describes the way in which someone might credit certain events to themselves or to other external factors. For example, those who believe to have high levels of control are likely to attribute successes to their own abilities as opposed to luck.
5) Creativity
This is indicative of how effectively one might generate new ideas, which is vital to an entrepreneur wishing to establish themselves within a niche market. The ability to continually revolutionise and build upon pre-existing concepts may help to produce a vast number of successful business models.
FIVE: Financial and Business Acumen Questions
This is the second part of the cognitive assessment. This section contains some basic business questions. It aims to test your financial knowledge.
There are calculation-based questions, pattern recognition questions & scenario-based questions.
The best way to prepare for the other type of questions is to take online GMATH tests, or Get our Detailed answers ANSWERS to the TEF COGNITIVE TEST QUESTIONS HERE
Once you're done, click SUBMIT.
Your eligibility status TO CONTINUE OR NOT will be displayed on the screen and sent to your email. If you are eligible, look out for the email from the TEF team on the next step, "TRAINING". If you are not eligible, you can take part in the free training on TEFConnect and need to try again in 2022 (I can see you screaming G-O-D…F-O-R-B-I-D!)
SIX: Declaration
Here, you simply answer a series of yes or no questions. If your answer to any question here is 'yes', you really should not be applying for the Tony Elumelu Grant.
PLS NOTE
If you failed to get in last year, I suggest you get some form of professional support so you are better prepared to pass this time around. Get our Detailed answers ANSWERS to the TEF COGNITIVE TEST QUESTIONS HERE
If you've taken the test and you want to significantly improve your odds in the latter stages by putting together a powerful business plan or pitch, contact us here.
I hope tis guide helps you nail your application.
God bless The Tony Elumelu Foundation for empowering African Entrepreneurs.
March 31 is almost here.
You lose 100% of shots you don't take.
Victory belongs to the bold.
Start your TEF grant application here.
---
Click here to Apply for WFP INNOVATION CHALLENGE 2022($100,000 Equity free)
---
For faster updates:
Join our Telegram Channel
Join our WhatsApp Group