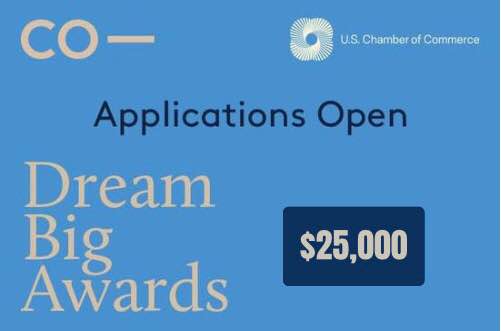 Applications are now open for the 2022 Dream Big Awards! Big dreams deserve big awards.
Donor Name: U.S. Chamber of Commerce
State: All States
County: All Counties
Type of Grant: Award
Deadline (mm/dd/yyyy): 07/08/2022
Grants Size: $25,000
Details about the Big Dreams Award:
The U.S. Chamber of Commerce is proud to recognize the very best in American small business. Dream Big Awards program honors the achievements of small businesses and highlights their contributions to America's economic growth.
Award categories:
Green/Sustainable Business
Young Entrepreneur Business
class="has-medium-font-size">
Community Support and Leadership Award
Funding Information:
The 2022 Small Business of the Year award winner will receive national recognition and a $25,000 cash prize!
Eligibility Criteria:
To be eligible, you must be a business that meets the following requirements:
For the Dream Big Small Business of the Year Award or a Business Achievement Award, you must;
You must be a for-profit business, that is operating for at least one (1) year primarily within the United States.
You must have less than 250 employees OR gross revenues of less than $20 million, for each of 2021 and 2022.
For more information, visit U.S. Chamber of Commerce.
---
Click here to Apply for University Startup World Cup
---